Senior Gains Experience, Friend Through Job Shadowing
My experience with WAFF 48 was an amazing experience. I got to shadow Payton Walker from Tennessee Valley Living. She is an incredible reporter and I learned so much from her. She showed me all the behind the scenes. I got to see how all the parts work together from being in front of the camera to being behind the scenes and working. I really enjoyed seeing everyone work together as a team and seeing the ingenuity of it all.
My favorite part of being a shadow was when we got to go visit and see a chocolatier at Lowe Mill. I had so much fun seeing her in action and watching her do her job as well as learning the basics of being in front of the camera. One thing I learned was that it is okay to be different. Watching her doing the things with the person telling the story inspired me to jump out of my comfort zone and challenge myself as a future writer to learn about people in a new way.
She was not afraid to jump out of the box. How that inspired me was that it made me want to be in front of the camera telling people's story and not only telling the story, but doing it with them and getting a picture of what their life is like.
Not only did I get to meet her but I also got to meet the whole staff. And one thing I do appreciate was that they were all down to earth with me and took the time to pour wisdom into me. All in all, it was one of my best experiences. We had a lot of fun talks and were open to a lot of topics and questions I had about being a writer and reporter.
If I were to be honest, I was super nervous first showing up because I didn't know what to expect. However, once I knew who my shadow person was I definitely knew I could feel better. I was able to share all my interests and what I wanted to do about becoming a reporter or writer.
Not only did she pour into me about being a journalist, but she also took the time to pour into me spiritually. Walker took the time and was not afraid to share struggles and her faith in God. And personally that was a blessing to share that moment with her. She told me about her journey finding her career and how she believed God was helping her.
She and I still stay in touch and plan to go out for coffee soon. Growing a friendship was the best part of this experience and if I could do it all over again I would.
Overall, I enjoyed the experience. Learning about my potential career and seeing it in action all at the same time was what made me more enthusiastic. I loved every moment and I will never forget the friendships that were created.
About the Writer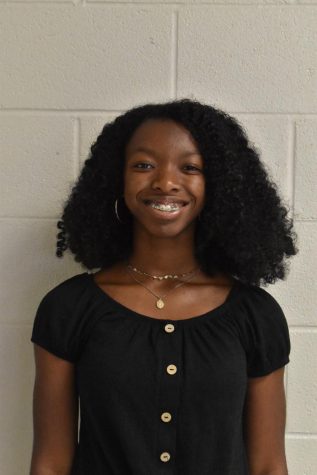 Kyla Davidson, News Editor
I have been in journalism for 3 years. I enjoy watching movies, drawing, and playing guitar.I'm pretty much quiet but have a big voice when I write. I...