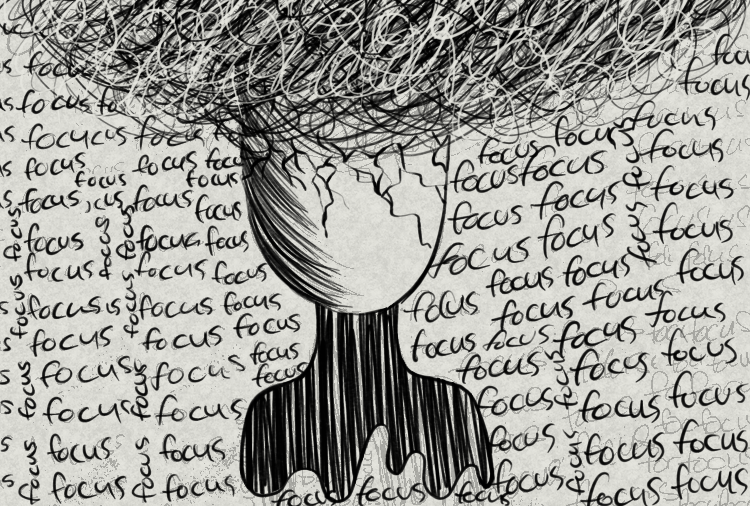 Photo Credit: Illustration By Blair Williams
Student Explains The Mental Health Crisis
September 30, 2022
There is a growing mental health crisis upon this generation, but as the crisis grows, so does the number of people and services who want to bring stability to this generation.
Suicide Prevention is observed every year during the month of September, specifically the week of Sept. 4-10. Prevention is the action of stopping something happening or arising in the future, keep this in mind. This month brings awareness to suicide and mental illness, emphasizing the importance of staying on top of your mental health. Mental health is the state of people's mental well-being.
Mental Health plays into suicide prevention in the sense that the more resources coping mechanisms everyone has, the lower the chance of suicide. In 2021, The CDC found that there were 130 suicides per day. There has been a goal set by Substance Abuse and Mental Health Services to reduce suicide attempts by 20% by 2025.
Hannah Ruggles is a Licensed Marriage and Family Therapist from Solid Ground Counseling Center. She finds resources to change people's circumstances and family cycles. Getting help is not easy, and it's not a weakness it's a strength. While society has become more aware, so has health care professionals, seeing as they are more accessible and within reach for those who need help. Families, community, friends and professionals are always within reach for everyone. As a professional, Ruggles helps people by implementing evidence-based therapeutic models within their treatment. Those who need help should not hesitate to reach out.
"Mental health is so important in today's society because we all have it. If we neglect our mental health it can wreak havoc on all different areas of our functioning. The more we take it seriously, gain understanding, and resources, the more we can manage what life throws at us," Ruggles said.
Suicidal feelings and mental weaknesses are often caused by isolation, abuse or loss. If you find yourself in any of these situations, there are multiple resources you can reach out to; for example, the Suicide Prevention Hotline at Huntsville Hospital or Therapists and The North Alabama Psychiatric Associates.
"If someone is struggling mentally my best advice is that they seek out a therapist to help them in these areas," Ruggles said. "People can actively support those who are dealing with mental health by being a listening ear and support without exercising any judgment. We don't have to always solve someone's issues to support them and validate their feelings."
In recent years, people have been more outspoken on social issues, especially the importance of mental health. American society was not always a safe space for people to express how they feel without heavy judgment and resentment. As a result, people felt their feelings were not valid and they either took their lives or struggled with depression without help.
"The view on mental health and suicide prevention has changed over the years in that people are taking it much more seriously because we can see the toll it has taken on our society," Ruggles said. "For suicide prevention specifically, there has been much more research and understanding of warning signs and best ways to help the person in crisis."
There is a wide variety of concepts that play into mental health and illness, spiritual wellness being one of those key concepts. Spirituality can help you deal with stress by giving you a sense of peace, purpose, and forgiveness. Dr. Travis L. Davis is CEO and owner of VantagePoint Behavioral Health, LLC. and pastor of His Dwelling Place COGIC. He works with teens, adults, couples, and families. Dr.Davis provides individualized programs that fit each client's needs, his methods include Cognitive Behavioral Therapy and Acceptance Commitment Therapy, Biblical-Faith-Based Approaches, Mindfulness, Reframing, and individualized treatment planning that fits each client's needs.
"The best results we obtain as mental health professionals is psychotherapy, and if needed, a combination of psychotherapy and psychopharmacology to obtain homeostasis, or balance, in your life," Dr.Davis said.
Dr.Davis became a psychotherapist because of his interest in how minds develop and how individuals' feelings affect their behaviors. Through his professional career he found that in recent years mental awareness has gained traction in society, especially during the pandemic. While society has become more aware, so has health care professionals, seeing as they are more accessible and within reach for those who need help.
No one is in a perfect state mentally. Many studies done between 2010 and 2020 have shown that women ages 18-25 and middle-aged white men are most likely to commit suicide. Dr. Davis in his experience with patients from walks of life has established that both of these groups do not have the best coping skills. This is due to pressure from family and peers and the lack of an outlet to express their struggles in a safe space. If you fall into this group and you don't feel suicidal taking preventive measeures is sill important, so you don't reach that point.
"These populations, and cultures may feel seeking help to process trauma, or seeking mental health services may be seen as weakness, or unacceptable," Dr.Davis said. "Therefore, they may lack the awareness to seek help, or have learned unhealthy learned behaviors to cope with everyday stressors".
As young adults in America, there are many things that bring happiness and joy to this generation. However there are many things that bring joy in life, but to truly appreciate joy you have to know sorrow. Do not ignore your internal struggles. Whether you get help or not, your mental health is important. Whatever your diagnosis is, your mental health is important. Recognizing the importance of your mental health is knowing the value of your quality of life.
The first step of asking for help and setting up a therapy appointment is the hardest. Everyone struggles with mental health at some point in their life, even if it is not apparent. There is no shame in reaching out for support. It is the bravest thing that someone can do. Here are some resources you can use if you or a friend is struggling with mental health or suicidal thoughts:
www.solidgroundmadison.com/awareness-saves-lives-knowing-the-signs-of-suicide
988lifeline.org
Heidi Hollinger​ | NAPA (northalabamapsych.com)
To find a hotline near you- Alabama Suicide Hotlines – Suicide.org! Alabama Suicide Hotlines, Alabama Suicide Hotlines, Alabama Suicide Hotlines, Alabama Suicide Hotlines!