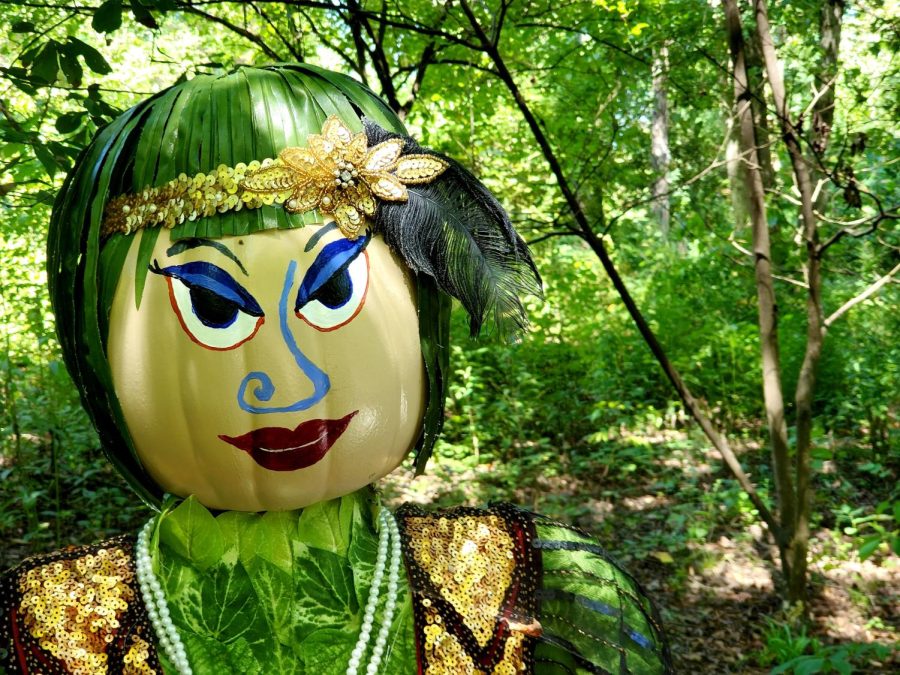 Photo Credit: Anna Beck
Botanical Garden's Scarecrow Trail Offers Fall Entertainment
September 29, 2022
Starting on Sept 3 and ending on Oct 31, Huntsville Botanical Gardens is kicking off fall with their annual Scarecrow Trail for their Festifall celebration. Local community members will create nature inspired scarecrows to display at the Garden for others to see and enjoy.
For more than 20 years, the Scarecrow Trail has been a tradition giving the Garden an opportunity to celebrate the fall season with the community. Guests are also able to enjoy pumpkin displays, mums and black-eyed Susans and a fall family photo opportunity with a 1949 Ford tractor and its wooden- wheel flatbed wagon.
"The Scarecrow Trail is just one part of Festifall, the Garden's two-month celebration of the changing seasons. Festifall also features additional programs and special events, such as an overnight campout, guided night hikes and BOOtanica," Anna Beck, the Director of Communications for the Huntsville Botanical Gardens, said. "The Garden Cafe is open daily to serve fresh salads, soups, sandwiches and more for guests to enjoy during their Festifall adventures."
During the summer, the plans for the Scarecrow Trail have already begun. Community members begin registering and creating their scarecrows in order to prepare them for installation late August. After the celebration has come to an end, the participants are welcomed to pick up their scarecrows on Nov 1 before the Garden takes down the Festifall decorations. 
"Because the Scarecrow Trail takes place outside for two months, all participants are asked to build their scarecrows with durable materials that can withstand the elements. The Garden staff monitor the Scarecrow Trail to ensure that every scarecrow remains in good shape," Beck said. "Additionally, the Garden's expert Horticulture team works daily to maintain the pumpkin displays and seasonal fall plantings."
Not only is the Scarecrow Trail one of the most popular events during Festifall, but the annual Fall Plant Sale has gained popularity as well, giving people the ability to select from a large variety of native plants, trees and shrubs. The Halloween celebration, BOOtanica, as well as the Raptor Show, which gives people a chance to see a live demonstration with birds, are also two very popular events for all families to experience.
"Fall is such a special time of year to be at the Garden," Beck said. " Whether you're learning something new or exploring familiar scenery, it's the perfect time to get outside and enjoy the beauty of nature, and we hope our guests leave feeling more connected to plants and feeling inspired to spend more time outdoors."