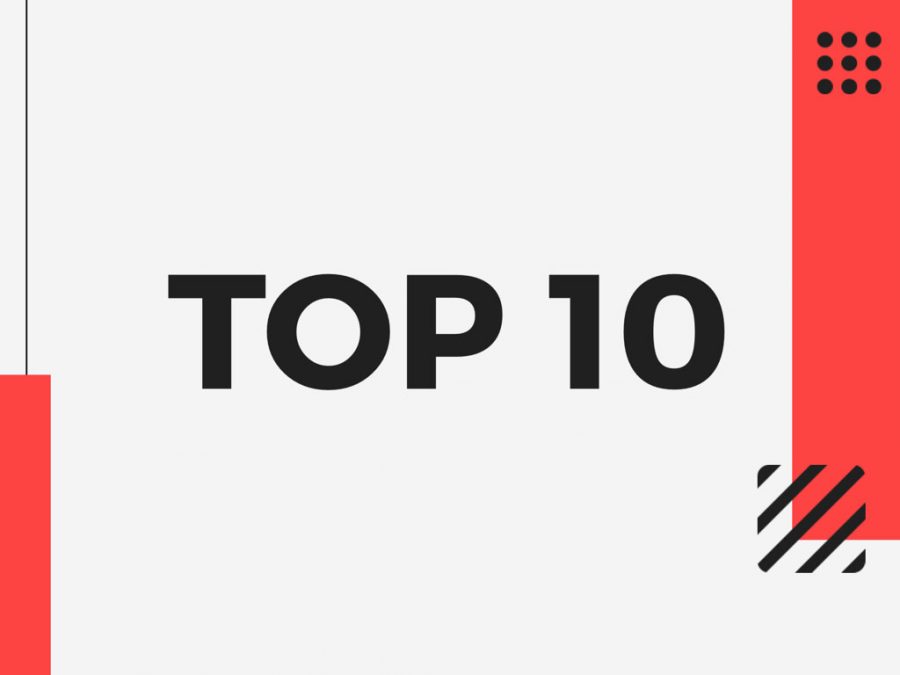 Photo Credit: Graphic by Saylor Cuzzort
Top 10 Figures In Black History
February 14, 2022
Henry "Box" Brown. Henry "Box" Brown was born enslaved on a plantation in 1815. After losing his family to a slave auction, Brown made it his mission to escape and become a free man. He had the idea to ship himself to Philadelphia in a wooden box. Even though Samuel Smith was a white man, he helped Brown successfully escape to freedom.
Percy Julian. Percy Julian was a pioneering chemist during his time. Julian was not allowed to attend high school but still managed to get his Ph.D. Although he faced many challenges for being African American, his research led to the treatments of glaucoma and arthritis. In 1973, Julian officially became the first Black chemist to be brought into the National Academy of the Sciences. In 1990, he was elected into the National Inventors Hall of Fame.
Jimmie Lee Jackson. Jimmie Lee Jackson got involved with the civil rights movement at a very young age. In February of 1965, Jackson was gunned down and shot by a state trooper while participating in a peaceful protest. Jackson's death sparked the protest known as the "Bloody Sunday". This memorializing protest motivated people to take action and get involved in the civil rights movement. From this, the Voting Rights Act was passed in 1965.
Medgar Evers. Medgar Evers was a civil rights activist and was the first state field secretary of the NAACP. As the state field secretary Evers traveled around Mississippi to recruit new members for the NAACP. Evers was known for fighting the racial injustices in the system. He became a target for death threats and violent acts. In 1963, Evers's home was bombed and shorty after, Evers was assassinated. 
Hank Aaron. Hank Aaron was apart of the Negro Leagues. He spent most of his 23 seasons as an outfielder. Aaron set new records and had over 775 home runs. In 1982, he was elected into the Baseball Hall Of Fame. The more famous and the more records Aaron broke, the more hate he faced for being African American. It was said that a black man should not be breaking such sacred records.
Ruby Bridges. In November of 1960, Ruby Bridges was the first African-American student to attend William Frantz Elementary School. At the time, there was intense adversity revolving around the desegregation of schools, so Bridges was escorted by the U.S marshall and her mother to and from school everyday. Because of her actions and bravery, she helped push the Civil Rights Act in the South.
Ella Baker. Ella Baker played an important role in the NAACP and other organizations fighting for civil rights. In 1940, Baker started her involvement with the NAACP as a field secretary and eventually served as the director of branches for three years. Baker helped activists like Martin Luther King put together organizations to fight against Jim Crow Laws. Even though Baker was not interested in the spotlight and preferred to be a behind the scenes activist, she made accomplishments vital to the fight against injustice. 
Sojourner Truth. Sojourner Truth was an African American women born into slavery who eventually escaped in 1826 with one of her three children. In her early years, Truth discovered a plan for her to be illegally sold to a white man in Alabama. Taking this to court, she was recorded to be the first Black woman to challenge a White man in court and successfully win. Truth continued to devote her life to fighting injustice against African Americans and fighting for women's  rights. Truth became known for her speech, "Ain't I a Woman?" delivered in 1851 at the Women's Rights Convention. 
W.E.B Du Bois. William Edward Burghardt Du Bois was born on Feb. 23, 1868 in Massachusetts. He freely attended school with white people and was fully supported with his academic studies. Bois became the first Black American to earn a Ph.D. from Harvard University in 1895. He was a writer and spokesperson for African American rights. And later became a co-founder of the National Association for the Advancement of Colored People (NAACP).
Ida B. Wells.  Ida B. Wells was born enslaved in Holly Springs, Mississippi. Eventually, her family was freed by the Union because of the Emancipation Proclamation a few months after she was born. In 1882, Wells moved to Memphis, Tennessee where she continued her education at Fisk University. She wrote countless books and articles about social injustice and led  anti-lynching organization in 1890.