Teachers Lose Their Home During 2011 Storms
April 27, 2021
Basketball Coach Patrick Delay and Madison Cross Roads Elementary teacher Amy Delay drove to work the morning of April 27, 2011 with little to no fear in their minds. 
Hours later their house would be leveled, their cars both totaled and their dog would be missing.
8:00 AM April 27, 2011: School had started for both the teachers. They both knew about the potentially dangerous weather, Patrick had stayed up the night before watching Brad Travis on WAFF, something he almost never did. They heard Travis talk about the likelihood of multiple tornadoes for the next day, the two were not extremely worried, it was Alabama, these types of warnings happened every other week, it would be nothing more than a morning spent in the hallway at school.
That is exactly what it started out as.
The first round came through while both teachers were at school. Students and teachers still did not know the true effects the storm would have in North Alabama until much later. 
Eventually school would be dismissed early and everyone would slowly begin heading home, finding trees blocking roads and debris everywhere.
"We were all relieved to be dismissed early and go home," Amy said. "Teachers and kids were scared, it was an extremely emotional morning."
Later on the couple would make their way home, struggling to make it past the roads, only to find that the power was out. The power came on for a brief minute where the two were able to turn on the TV to see the impending weather.
"I believe that saved our lives that day," Patrick said. "They were showing a huge storm on radar heading our direction and the power went out again."
Amy was pregnant at the time with the couple's first child, so they decided they might as well go to a friend's house in Anderson Hills because they had a storm shelter.
4:00 PM: The tornado that would pass through Anderson Hills and much more of the Harvest and Toney area was minutes away, this tornado would be on the ground for 132 miles. Patrick and Amy sat in the shelter at their friends house, unaware of the oncoming tornado and the fact that the house above them would soon be completely destroyed.
There would be over 30 homes in their neighborhood alone that were completely destroyed and almost all of the homes in the neighborhood would have some sort of damage to them, but Patrick and Amy were still hours away from finding this out.
"Up to this point I had never gone to a storm shelter or even took cover from a storm before in my life. There were five of us in the garage listening to the weatherman on the radio because the power was still out," Patrick said. "While in the shelter, all of the sudden we heard a huge crash and thought a tree limb must have broken off."
Patrick went out to check out the damage, there was not a tree limb in sight. A woman's dress sat in the middle of the driveway, chunks of ice the size of footballs were everywhere and suddenly the sky turned a green color and Patrick decided to head back in.
"Just a couple minutes later my ears started popping and it sounded like a train was hitting the house.  It went on for what seemed like minutes but was only seconds.  I just remember our friend yelling a prayer over the sound of the tornado," Patrick said. "When it was over, a couple of us ventured through the basement to the driveway.  Everything was destroyed."
A neighbor's house was also destroyed and they knew there was a man with his small kids at home, the group ventured over to the destroyed house and found them safe in their shelter. The man and his children joined the group because they could no longer safely access their storm shelter. Throughout the rest of the evening they would all scurry out of the shelter for fresh air and look outside only to be chased back in by a tornado warning. 
9:00 PM: Finally the area was cleared of severe weather, the couple had no way to get home at that point. Wandering around the neighborhood, a police officer stopped to check on the group. Patrick asked if there was any way the officer could take the couple home but he said he could not. 
"The officer asked where we lived and I said Carters Gin subdivision.  He gave me a strange look and said it took a direct hit," Patrick said.
Patrick and Amy were finally able to get a cell call through to Scott and Debbie McMickin and asked them to pick them up at the corner of Jeff Road and Hwy 53. The two hitched a ride from someone to the front of the neighborhood and met up with the McMickins.
"As we turned into our neighborhood the houses looked to have minimal damage. I remember thinking the police officer must have gotten confused because there wasn't any damage," Patrick said.
9:00 PM: That's when they would see it, well not it, just nothing. Patrick and Amy came to a completely leveled field, nothing but debris in sight. 
" We got back to our house after dark and it was unrecognizable. I walked right past where our house was supposed to be very confused," Amy said.
Right where their house once stood was a pile of their things that would take days and even maybe weeks to sort through.
"When we rounded the curve to our house everything was gone. We looked for our dog, Tiger, but could not find him. It was too dark to do anything else so we went back to McMickin's house which would become our home for the next month and a half," Patrick said. 
They found a  few wedding albums, months later Patrick's state championship rings showed up and about a mile away Amy's brother found her wedding dress. Their dog, Tiger, would eventually show up from a cotton field behind where their house once stood.
"My truck which was in the driveway when we left was thrown to the back corner of our lot.  In the center of our home was a small half bathroom where we would have taken shelter and our riding mower was sitting where the toilet used to be," Patrick said. "I am fairly certain my wife and I would not have survived if we made the decision to stay at home."
Patrick and Amy spent a month and a half living with the McMickins, It would take weeks to file with the insurance, find new cars and a new house. They began the process of putting their lives back together with the help of friends and family.
"The community was devastated but quickly came together to help. We had so many people supporting us through the entire process. I remember kids coming to me as a teacher and wanting to tell me everything they lost because they all knew my house was gone too," Amy said. "I cannot sufficiently put into words how forever grateful I am to everyone that took care of us. We were overwhelmed with support."
8:00 AM April 27, 2021: Ten years later and Patrick arrives at school and will begin teaching just like a normal day. In his head he will remember the devastating feeling of losing all of his belongings, having to restart his life, just this day ten years later, but he is still alive.
"We still go out to the lot occasionally and always seem to find something that was ours," Patrick said.
The couple have three young children today and have moved twice since the tornados came through. They have installed storm shelters in both of the homes they have moved to and are grateful for the decisions they made ten years ago that saved their lives.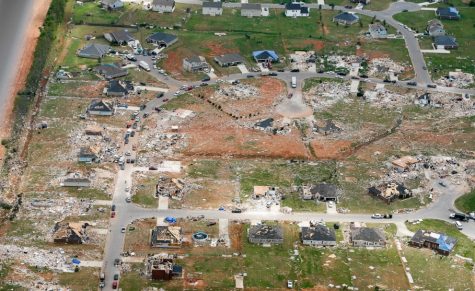 "It was a terrible experience but we were lucky nobody was injured. That is what I am most thankful for and what I remember most about that day," Patrick said. "Many people in the community lost their lives that day, it is scary to think what could have happened."