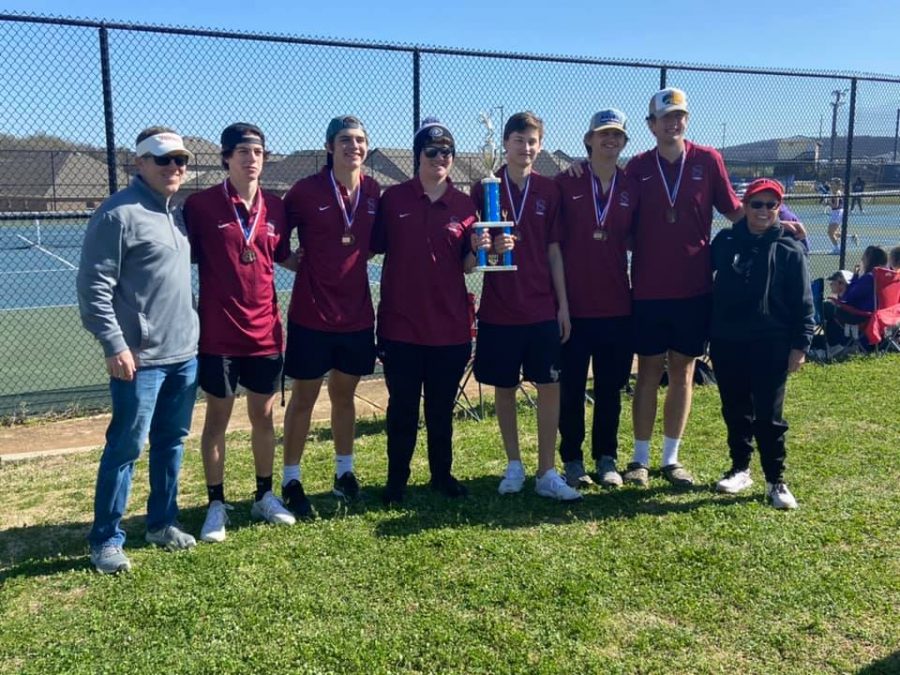 Photo Credit: Joseph Cuzzort
Boys Tennis Team Wins Madison County Championship
Hard work carried out by the Boys' Tennis Team proved effective on April 13, 2021, when they competed and successfully took home the win of the tournament. 
Throughout the season, the head coach, Monica Davis, has been coaching the athletes and assisting them with skills and advice to further better their plays. As a coach, she tends to feel appreciated when her athletes put to work what she has tried to drill inside their heads.
"I love to see the kids succeed; it is such a blessing when they play the way I know they can.  The win is a bonus, but the confidence that the win builds is what the competition is all about," Davis said.
As the team strives to progress in their abilities and put forth their best effort in every match, Junior Ethan Cuzzort knows he still has next year to exceed his full potential giving him the assurance that he can only get better from here.
"I won the first round in doubles and singles but got beat in the second round in both. The first matches were what you could call easy, but I still had to finish and close out the match. The outcome was not what I hoped for but I reminded myself that there is always next year," Cuzzort said. 
As Cuzzort finishes off his season, he realizes that overall his team has had a very successful tournament and claims it to be one of the best. With experience in tennis, he knows what it takes to play and what needs to be a mindset in order to accomplish your goal for the team. 
"This is the best appearance we made in a section for the Sparkman boys which is always a good thing to know. My advice for future players would be to not quit playing till the match is over," Cuzzort said. 
With Davis continuing to coach her team throughout the season, she reflects back on what she feels needs to be improved and what she knows is going to push her team far. She finds herself loving when her athletes succeed through difficult matches as well as keep a positive attitude when losing is at risk. 
"All I ask of my team is that they give their best, and if they can walk off the court and say they gave their best then I am pleased. I think we need to concentrate on practicing with discipline and confidence," Davis said. "My mantra this year has been to focus on the next right thing. Don't dwell on the mistakes; they are just reminders that we are human."