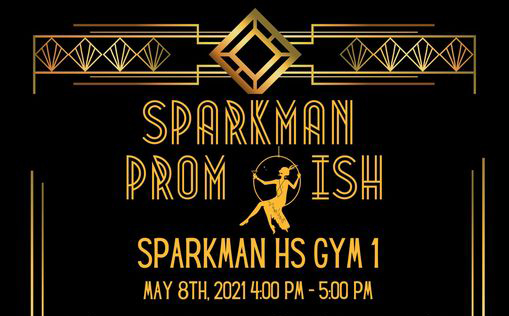 Prom Event Ensures Safety Precautions
On May 8 you will find a number of seniors, juniors and their dates on the football field, attempting to have one last celebration before the school year ends.
This year 'Prom-ish' will be an hour long celebration consisting of a senior lead out and royalty  crowning ceremony. Seniors in attendance will be formally recognized, there will be a senior slideshow presented at the event.
"It is important to me that we have this opportunity to have a moment together as a class. We have had so much taken from us this year, it is upsetting knowing how many other opportunities we missed out on," SGA President Rebekah Curry said. "Prom, whether in a typical year or not, is one of the last events before graduation, I strongly encourage all students to attend before leaving Sparkman."
If you would like to send pictures for the senior slideshow, email pictures to [email protected].
The theme is the roaring twenties. Students will have the opportunity to take pictures against a backdrop at the event. The event will take place from 4pm to 5pm to allow students time afterwards to attend other events off-campus and eat dinner.
"It is not the prom we all imagined but it something we get to do together as a class, the quality time and memories you make with your friends and classmates will be worth an hour of your time,' Curry said "Many students are attending other events or have plans to celebrate that day and will already be dressed up and in groups, coming to the leadout will be an additional thing to participate in that night."
In accordance with Madison County Schools guidelines, there will be no dancing however there will be music. The event is being held at no cost, students can acquire tickets, which are required to attend, online. Tickets will no longer be available after April 25.
"Due to COVID-19, SGA has made it our number one priority to ensure the safety of all of our students in attendance of prom," Curry said. "With CDC regulations, we must make sure we do not break any rules such as social distancing and not wearing masks."