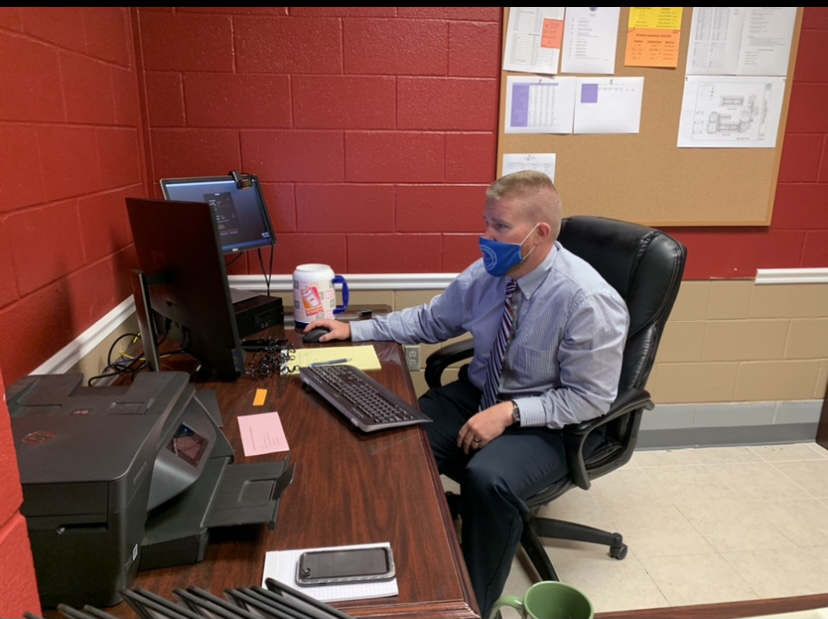 Photo Credit: Ma
Mr. Rogers Joins the Neighborhood
An office opened up at the beginning of this year and new assistant principal, Matt Rogers has come to occupy it.
Rogers began his journey in education at the Mississippi State University where he graduated with a bachelor's degree in secondary education with a minor in history in 2012. Since then Rogers has spent nine years at Buckhorn Middle where he taught history and served as head football coach.
"I believe that my time in the classroom gave me a good understanding of the daily needs and challenges faced by teachers. I also believe that being a head football coach gave me the opportunity to develop leadership skills and oversee an organization or group of people trying to obtain goals," Rogers said.
Rogers went back to school to get his master's degree in instructional leadership from the University of West Alabama this past year. When he was offered the assistant principal position, he was ecstatic.
"It was also somewhat bittersweet as I knew I'd be leaving behind some of the bonds I had formed with my co-workers and students at Buckhorn Middle. At the end of the day, however, I knew that this was a challenge I had been seeking and jumped at the opportunity," Rogers said. "Being offered this position meant that all of my hard work and determination had paid off and that I had reached one of my goals of becoming a school administrator."
Rogers hopes to translate the skills he grew at Buckhorn Middle as a teacher and a coach into his new position.
"This will allow me to not only serve the student athletes and coaches as Sparkman's future athletic director, but also meet the academic needs of our students and classroom teachers. I hope that in my time at Sparkman I am able to help our staff and students continue their reputations for achieving excellence and develop SHS into one of the premier high schools in the nation," Rogers said. 
This Monday was Rogers' first day on the job and as he transitions he knows his responsibilities will grow and change.
"So far the transition has been good, but I know I have a long way to go. My first week will mainly be getting settled in and assuming some of the duties and responsibilities of an administrator, but I know the workload will continue to increase as I learn the ins and outs of my new position," Rogers said.
Rogers is excited and eager to see the work he will do through the school. He hopes to make a major impact during his time here.
"I believe that I will be a great fit at Sparkman. When I first discussed the position with Mr. Shaw, he explained that he needed an administrator that would be able to fulfill the role of athletic director while also addressing discipline and instruction in the school. I feel that I am very well rounded when it comes to my ability to address all of these areas, so I felt confident in applying and interviewing for this position," Rogers said. "One thing that I think really sets Sparkman apart from other schools in the area is the sheer size of our building and student body. Since I am coming from a much smaller school, I look forward to meeting the challenges that will come along with working in one of the largest high schools in our area."
He knows that coming to a much larger school will have its challenges but he hopes to meet those challenges with everyone's best interest at heart.
"I hope to be an administrator that students and staff know have their best interest at heart. I hope that students and staff will come to me with issues, then take the opportunity to collaborate, learn and grow in solving them," Rogers said.
Outside of the school building Rogers can be found spending time outdoors with his wife, Anna Laura, fly fishing or playing with his 5-year-old American Staffordshire Terrier, Ajax. He also enjoys Martin guitars. He hopes to be a leader that others lookup to throughout the school and make a difference in any way he can. 
"I am very thankful for the administrative team here at SHS for allowing me to come in and learn and grow under their leadership," Rogers said.