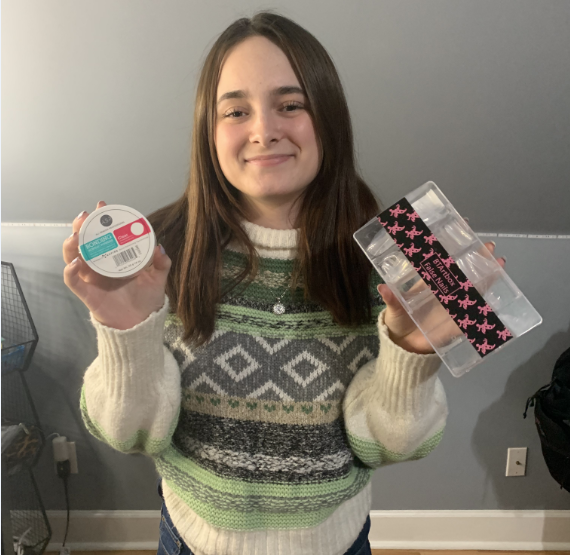 Photo Credit: Heather Grissett
Senior Finds Future in Creative Outlet
Whether it is coloring, singing or writing, there are a variety of ways students show their creativity.
Senior Raelin Grissett uses nails as her creative outlet. From a young age Grissett formed her interest in nails.
"
I started doing nails when I was little, I loved seeing my moms nails painted with pretty colors and I started to get an interest in painting nails.
— Raelin Grissett
Grissett is self taught and has learned how to do nails along the way, using her friends and family for practice.
"I usually do nails for my friends and family and have learned how to paint nails over time," Grissett said. "I think I have improved from the beginning by practicing a lot and trying different techniques."
Since she is self taught, Grissett takes nail design head on following the guidelines she assesses from her references.
Grissett enjoys the versatility that comes with doing nails along with the variety of her clients requests, allowing her to get a taste for different techniques and styles.
"My favorite part about doing nails is painting and shaping them because there are so many ways to do it," Grissett said. "My favorite type of nails are when a client wants a colorful and busy design because I get to use a lot of colors and different nail art brushes along with glitter and gems and more."
In order to get more practice Grissett advertises her nail art to her friends and classmates, allowing herself to open up to more clients.
"I usually have friends help people find out that I do nails, and I post them on social media to try and gather attention too," Grissett said.
Grissett plans to continue doing nails after high school by broadening her education on cosmetology, along with bringing her love and interest for the art into her future career.
"I plan on bringing this into my future career because I want to own my own salon and do manicures and acrylic nails along with being a hairstylist," Grissett said. "I plan on attending Paul Mitchell Beauty School after high school so I can get my cosmetology license."