Photo Credit: Scott Lowe
Soccer Preview: Soccer Heats Up This Week
With soccer season on the rise, varsity boys' coach Caleb Besaw and varsity girls' coach Samuel Tidmore prepare their players to take on the field.
Boys:
The boys' first game will be at home against Lee High on Feb. 7 with kickoff at 7 p.m. and will continue with competing in a tournament at the end of the week in order to prepare for their first area matchup on Feb. 15 against Huntsville High. Besaw looks forward to seeing the level of competition in North Alabama, and how the team compares to that competition.
"I have spent the past three seasons coaching in the Birmingham area, so I am excited to see the differences between the level of play and style of play," Besaw said. "I also am looking forward to bringing the Sparkman boys to compete against some of those Birmingham area teams."
Besaw believes the team possesses a strong corps of seniors this year. Several of these seniors have played together for a long time and are expected to step up on the team and define future expectations.
"I am expecting this group of seniors to be great leaders for our program so that they can set the tone for not only this season, but for our underclassmen and the seasons beyond this year," Besaw said.
Preparation is already underway for the team. They began conditioning in December and now have a fourth block class for soccer for the spring semester for the first time in several years.
"Our first official day of practice is Jan. 16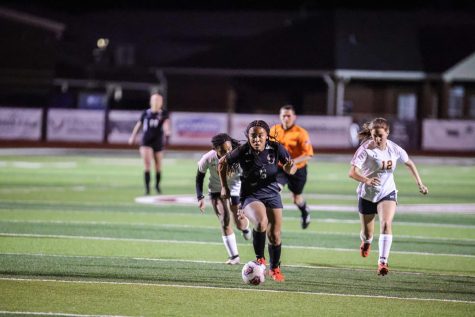 , when we'll be hosting "Camp Besaw," a 3-hour long practice session in order to get mentally locked in for the season," Besaw said.
The team has made various goals that have been developed for the season so far, with their number one goal being to make it to playoffs.
"We play in a tough area against the likes of Grissom, Huntsville, and Albertville," Besaw said. "This will not be an easy challenge, but I believe the boys will be prepared physically and mentally to compete against these teams."
This is senior Sam Jensen's first year on varsity and fourth year playing for the school. He hopes to win the area tournament and win the state championship.
"I am definitely most excited for our first game," Jensen said. "I also am looking forward to playing Bob Jones and James Clemens since I know several of the people on the teams."
Senior Eli Loo has been on varsity for three years and plays offense. He believes having fourth block soccer has doubled their training compared to previous years and having more time helps the team bond together.
"I am excited for those tight, hard fought games that we pull out with a win. The feeling is more than winning;it's a greater bond and connection with teammates that's so insane and special," Loo said.
Girls:
The girls' first game will be a home opener against Buckhorn on Feb. 2. Tidmore hopes to win the Metro and aims to defeat Huntsville, Grissom, Bob Jones and James Clemens.
"We have an incredible group of players who want to compete for each other and represent Sparkman high school," Tidmore said. "Our players are tough, resilient and ready to compete."
Tidmore has developed several practice techniques to prepare the team for game time. They have conditioned since November and they practice various schemes, concepts and strategies that prepare them for in-game situations.
"I have a veteran group of players that are ready to compete," Tidmore said. "As the head coach, I am looking forward to continuing to build on the foundation that was laid by the varsity players last year. I am also really excited about the young developing group I have on JV."
Senior Audrey Edwards is the goalie for the team. She has been playing since she was four and looks forward to playing alongside her teammates for her last season.
"My goals for this season are to grow from last year as we lost our starting players," Edwards said. "Making playoffs is also a big one as we lost to Grissom and Huntsville in penalty kicks making us not eligible for playoffs last year."
On offense, Jayda Davis plays striker. She has trained throughout the year by spending weeks conditioning, practicing and making healthier choices. Davis possesses an ideal season for her personally.
"A successful season to me includes continuing to get closer and grow with my team while also having the opportunity to and learning more about myself," Davis said.