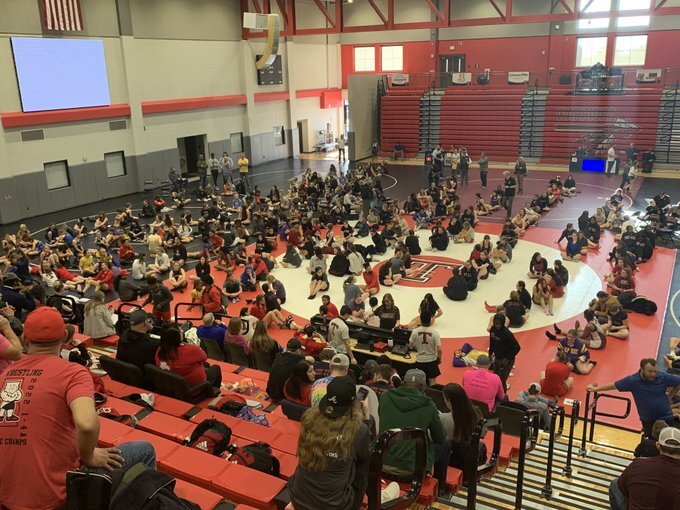 The Wrestling Team Is at Its All-Time High
Boys and girls wrestling has achieved top wrestling awards during this season. Ranking top of the charts this year at tournaments wrestling has won matches against past undefeated teams and new competitors. Seniors Aliza Wix-Amaya and Antonio Moultry share their experience on wrestling.
Head coach Ronnie Watson said they were averaging at losing 16 seniors per year. This year they have grown from having 52 wrestlers last year to having 83. During the pandemic, the wrestling program struggled to recruit as COVID restrictions took place. Watson gave his thoughts on the wrestling team and what he thinks about the year as a whole. 
"For the guys, we have won a lot more than what we thought this year. As far as team building, we try our best to make them into better human beings and better for the community. Whether they have or do not have success we try to teach them discipline as a life lesson.," Watson said.
 Watson said that the girls have had a six-tournament winning streak. At the Queen of the South Tournament they had five girls ranked in state with number one being Akerah Artis. They beat the twentieth team in the state which was Daphne.
"During regionals and competitions many people think wrestling as an individual sport, but when you're dualing each player accommodates points to their team," Watson said. "It's more of a team sport than it is an individual sport."
 Moultry, who is a part of the boys varsity team, said he started the season off with plans on getting better. 
"I plan on getting better and stop making excuses when I make mistakes. I also plan on being a better role model for the younger wrestlers and place at state," Moultry said.
Moultry believes that wrestling has taught him good leadership as he learns to have a strong mentality towards his skills. Moultry said that he has prepared himself for future challenges on and off the mat. 
"It separates you from wrestlers who don't have a rare mentality," Moultry said. "I think every wrestler should stay consistent because it is you versus you."
Wix-Amaya, who is a senior on the girls varsity wrestling team, said she is preparing to improve her wrestling skills as she plans to wrestle at the University of Iowa after high school. She is planning on getting a scholarship to attend the university and eventually wrestle in the marines.
"I've definitely learned how to carry myself in a different way. Like when I came into wrestling last year I didn't even know we had a wrestling team. I came in and I was so scared and very shy and I was not as athletic as I am now. And I've learned how to be more confident in myself and have more pride in a way," Wix-Amaya said.
Wix-Amaya placed second in the Queen of the South Tournament behind Akerah Artis and Reagan Grant who ranked first. The school won first over all and made a record of winning in the first tournament held. 
"Whenever you're at those tournaments it's an all day thing and personally I know for these girls I know it makes us better athletes because when you're at practice you are practicing with people you know," Wix-Amaya said. "But when you are at tournaments you are wrestling someone you don't know and you don't know their moves or what they are going to do. It makes you more of a better athlete."
Wix-Amaya said her health is one of her main priorities on her journey to becoming a better athlete. She said she has utilized her opportunities of improvement through consistent workouts, watching films and monitoring her diet.
"That is something they always reiterate to us. So we can look at what we did wrong and so that we can prepare ourselves mentally for the match. We do a lot of hard work in practice and taking care of your body outside of practice is crucial. Exercising and watching your food regime is important because it does play an effect on your performance. Staying consistent will only make you a better wrestler in the end," Wix-Amaya said.
Overall, she believes she has personally had a good season and believes girls varsity has improved as well. She hopes to continue to pursue her career as a wrestler and work towards her goals as an athlete and a human being.
" This year I was almost undefeated. I only had one loss so that was pretty amazing for me compared to last year. I definitely am going to use that one loss as motivation for state," Wix-Amaya said. "It was a very good experience and the tournament was a great experience and i like the way everything turned out."