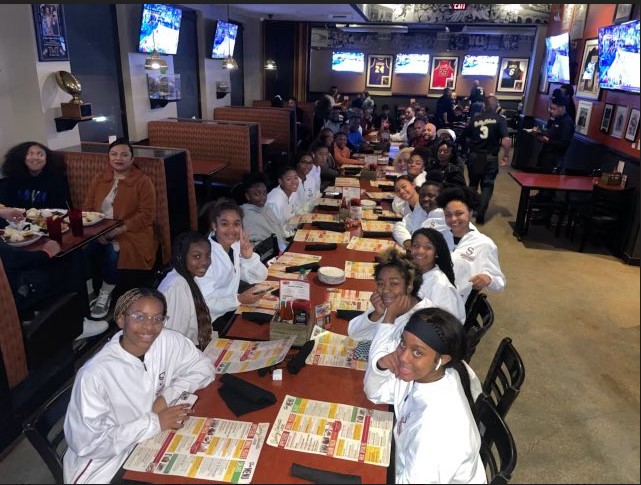 Photo Credit: Sparkman Girls Basketball
Girls Basketball Team Finds Good Competition in New Orleans
The girls basketball team recently traveled to New Orleans to play in the Sugar Bowl National Prep Classic, a high school basketball tournament highlighting some of the country's best talent. 
According to coach Jarvis Wilson, playing in the Classic would expose the team to more high-level competition. The tournament did not disappoint. The team faced Lafayette out of Louisiana in the first round, losing 44-36. 
"The outcome of the game, I would say it was not what we wanted," senior Nylaa Fuller said. "But we took our mistakes from that game and fixed it for the next two games."
The team went on to defeat Vanderbilt Catholic, 70-60 and John Curtis, 71-63. 
"There was definitely good competition, everyone was playing very hard and physically, we definitely needed that to prepare us for state," junior Jalei O'Neal said.
The competition however wasn't the only new experience the team faced. After the game they had the luxury of tasting some of the local cuisine that the New Orlean folk had to offer.
"Where we went to eat was a seafood place. It had a lot of stuff that I wanted to try but I stuck with friend shrimp and fries and it was amazing. My teammate Jada had boom boom shrimp and it was delicious!! I would definitely recommend this to everyone in the world," Fuller said.
The team was the first team from the school to travel to this tournament. And it will most definitely be a story for the girls to remember and look back on.
"To be the first program to play in New Orleans was definitely a great experience. If it wasn't for Coach Wilson most of us wouldn't have this exposure that we do now and he really helps us and pushes us to the limit and we are very grateful especially us seniors that we got to go to this National event" said Fuller
"It was fun that she got to experience a place and competition I never have before," O'Neal said.