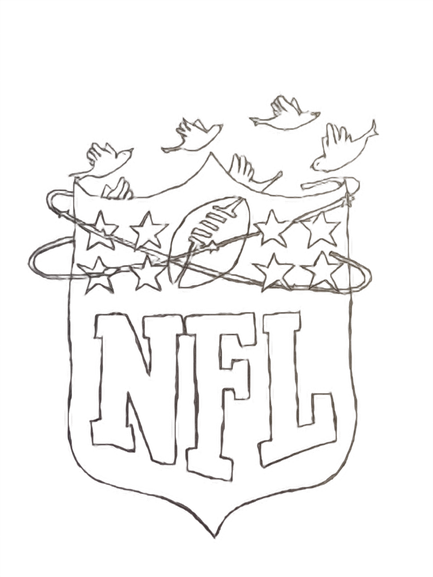 Photo Credit: Meh'Quira Malone
Following A Slew of Injuries The N.F.L. Adjusts Its Protocol
November 30, 2022
It is not uncommon for National Football League (NFL) players to sustain injuries. However, recently, players have suffered concussions but have been cleared to return to the field and play in games, sparking controversy around the NFL and how they treat their players.
After an incident following Miami Dolphins quarterback Tua Tagovailoa, it sparked conversation surrounding the protocols around concussions in the NFL and that's when they decided to make a change to the protocol. 
"I think the new concussion protocol helps. The new rule is that if any basic motor functions are irregular or fail, the player is out for the game. Tua lost his balance after the first hit, so that would have kept him from returning to that game, and most likely kept him from going into the game that Thursday against the Bengals," senior Drew Duckworth said. "My only worry is that another doctor will make a corrupt decision and go against protocol again anyways."
Tagoviloa suffered a head injury during the Buffalo Bills games resulting in a concussion later cleared to play in the Dolphins upcoming game against the Cincinnati Bengals Tagovailoa also took a hit after being tackled by Cincinnati Bengals defensive tackle Josh Tupou, fans witnessed Tagovailoa fingers have a reaction towards the big fall, later Tagoviloa was carried off the feel on a stretcher.
"Tua's situation definitely brought light to a lot of health concerns in athletes of all levels. Fans are critiquing the way his situation was handled and rightfully so. Nobody wants to see anyone go through something so traumatic, and that's why it became such a big deal," Duckworth.  "The NFL was forced by fan pressure and the NFLPA to make a formal revision to the concussion protocol, even though the old concussion protocol alone should have made it obvious Tua should not have returned in the second half or even played against the Bengals."
It is not really uncommon that the NFL to make changes to the protocol after a player was seriously injured.
"I agree with the NFL for attempting to change the concussion protocol. One of the best players in the league Tua Tagovailoa almost had his career cut short because of it. This new rule should make the game of football safer and better for all players," senior Briace Mcbeth said.
The Concussion Protocol was first created in 2011 after Colt McCoy took a hit to the helmet and returned back to the field after being tested for a concussion, Aswell as following the incident back in 2017 regarding Tom Savage after returning to a game after taking a gruesome hit – though the protocol was followed to a certain extent it was revealed that the protocol was flawed.
"The issue in his scenario was that the protocol requires a private neurologist to examine the condition of players regarding head injuries to prevent that exact thing from happening. People worried that NFL employed neurologists would clear players that shouldn't be cleared in order to get players back out there because it is a business after all," Duckworth said.
Whatever the sport, money and popularity have a significant impact on it. People do not want their money being toyed with, and this has always been the case.
"I think the NFL is a business first and cares about the view of the fans. Obviously they want the superstars out there, but the mental and physical health of players is becoming a huge factor in the public eye, and because of that, the NFL is addressing it to avoid controversy among their fans or "customers"," Duckworth said.
From an athlete's perspective, it is disappointing to see "superstars" return to the game after suffering back-to-back injuries. That may disturb them or change their mind about one day perhaps joining the game they enjoy. Without the players, the people who host these games will lose money, especially if it is their sole source of income.
"I worry about everyone, because every level of sport is dangerous, but not every level of sport is as intense as the NFL. Seventeen games a season against the best athletes the world has to offer banging heads year round is definitely rolling for them," Duckworth said. "Current NFL athletes struggle with mental, emotional, and social aspects of their lives on top of the intense physical demands of the sport and I hope those aspects of life are adequately addressed before they get up to the league."
But it does not mean that the people that evaluate the players are at fault. It does fall on the players as well, they know themselves more than anyone else. At any point in time, those players could have said no and didn't play. Yet you never know what goes on between a player – They make their money from playing the game. 
But injuries go for all levels of sports from professional to collegiate to High School. 
Xavier McClain was critically injured during a varsity game according to TMZ Sports. McClain sadly passed from his injury. Though Duckworth did not suffer to that extent it did change his view on football.
"I have suffered from a concussion. I finished the first game and missed the next 2 due to concussion protocol. I lied and came back for the last game of the season where I hit my head for a 4th time and finished that game," Duckworth said. "But the damage is done, and I struggle to do basic functions like walking. I definitely did not play the same way, but I still love football because it's always been such a huge part of my life, and even though I may be done playing, I still plan to stay involved by coaching in the future."