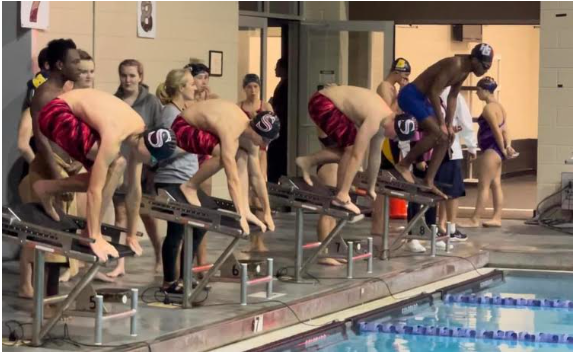 Photo Credit: Photo By Derek Breton
Swim Competes at the Madison County Championship
On Oct. 18,four swim teams,including Sparkman High School, competed at the Madison County Championship.Both the mens and womens team for Sparkman finished third being led by sophomore Quintellis Darden II and senior Rebekah Cline.They both met Sectional qualifying standards and will compete in sectionals at HAC on Nov. 18.
The boys team earned 83 points with Darden being first on the men's team scoring 18 points by swimming the 50 Yard Freestyle and 100 Yard Butterfly.Second on the team was Bratton scoring 13 points by swimming the 100 Yard Freestyle and the 100 Yard Backstroke.Placing third on the team was Smith who swam the 100 Yard Freestyle and 100 Yard Breaststroke in which he earned 12 points for the team.
The girls team earned 69 points with Cline being first for the women's team swimming the 200 Yard Freestyle and the 500 Yard Freestyle earning 14 points.West was the second earning swimmer with 11 points by swimming the 200 Yard Individual and the 100 Yard Breaststroke. Breton was the third leading scorer by swimming the 100 Yard Backstroke and 100 Yard Freestyle in which she earned nine points.
Sparkman had quite a successful night for both of the relay teams earning a lot of points for the team. The 200 Yard Medley Relay teams for both men and women earned 14 points for Sparkman with both teams finishing second.The men scored another 14 points placing second for the 200 Yard Freestyle Relay with Darden as their starter and Williams as the anchor.