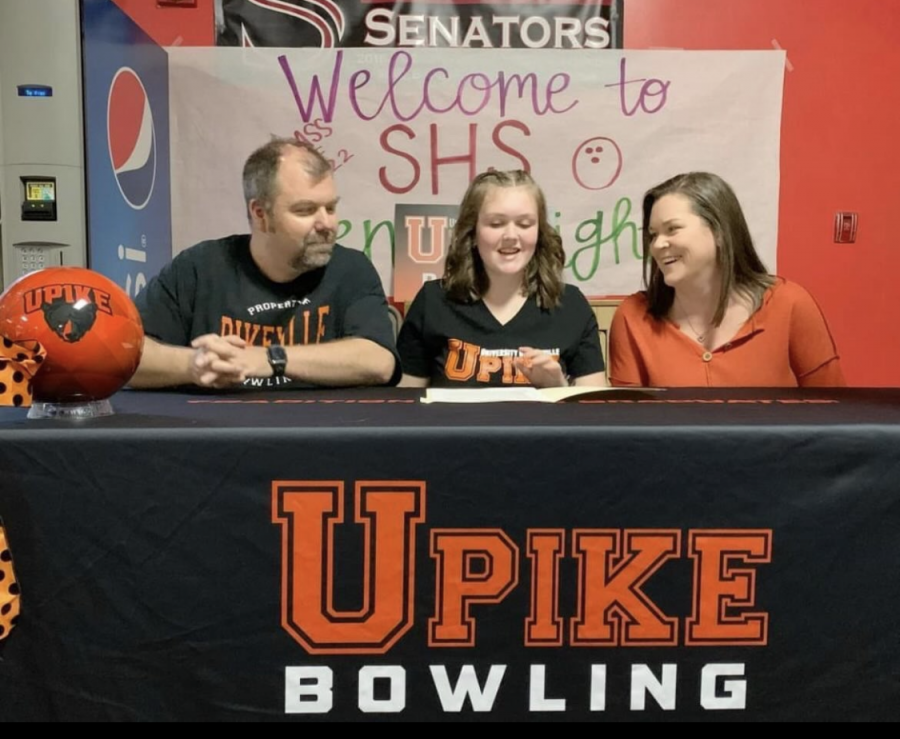 Photo Credit: Courtesy of Emily Lindsey
Senior Bowler Signs Scholarship
December 14, 2021
From the first time senior Emily Lindsey saw a bowling lane, she fell in love. She has been given the opportunity to continue knocking pins down.
At the age of five Lindsey started bowling because her parents loved it and wanted to see how she would like it. Lindsey joined the school's team in 7th grade and has been on it ever since. Her dreams came true when she got an offer from the University of Pikeville.
"I learned about Pikeville through a friend who signed and attends there now. I talked with her coach and toured the school, after that I was pretty sure that is where I wanted to go so I got my offer and talked and met with the coach about when we could do the signing," Lindsey said.
Bowling coach Lisa Ivey says Lindsey is following in the footsteps of her fellow teammates. Last year there were two people that got to sign. Ivey is proud that Lindsey got her moment to shine.
" I want all my players and students to be successful and enjoy their time in college," Ivey said.
In college she hopes to learn how to compete on a higher level and continue to improve with the help of her new coaches and teammates.
"
"I am excited to be able to play in college, I have enjoyed doing it in high school so being able to continue on a higher level is exciting.""
— Emily Lindsey
Last year she was ranked 8th in the state of Alabama for youth girls. Lindsey is currently averaging 211 at the league she bowls at on Saturdays. She hopes that when she starts college bowling she can keep these stats up but also balance her grades.
"I plan on going into social work or education. It will be a challenge I look forward to. I hope to be able to lean on my coach and teammates to be able to balance both of the two, but school is a priority," Lindsey said.
Lindsey's parents met while bowling in a youth league and have been her main supporters and motivators since. Her dad is constantly encouraging her and wants her to continue making progress.
"My mom and dad have both been with me every step of the way and I would not be where I am now without them," Lindsey said.
Lindsey received offers from other schools like Culver Stockton. There was just something more special about Pikeville because she knows people there and has a good connection with the coach.
"I got an offer from Culver Stockton but I chose Pikeville because it is a college I have been looking into for a while and one I enjoyed visiting," Lindsey said.
Ivey hopes that Lindsey and all of her other athletes use what she teaches them wisely. Not only how to be a good bowler but a good person.
"What I want them to do the most is be great people and give back to the communities that have supported them," Ivey said.