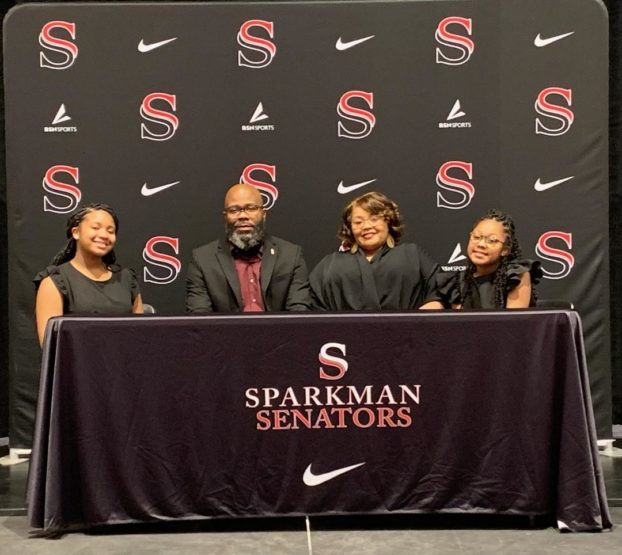 Photo Credit: Madison Duboise
Wilson Hired As New Girls Basketball Coach
Coach Patrick Delay shot his final shot in February and has passed the ball to new girl's basketball head coach Jarvis Wilson.
Wilson is making the move up from Birmingham to the area for the position which is one he says is the best in Alabama.
"This job is the best job in girl's basketball in the state of Alabama," said Wilson. He went on to thank Sparkman administration for giving him the opportunity to lead the team. "One thing about me is I'm passionate. I am a winner, I want winners around the program. I'm blessed to serve you as your coach."
Wilson comes from George W. Carver High School in Birmingham where he won a total of 187 games over seven years. Jarvis previously coached at Blount High School for two seasons in Mobile.
During his time at both schools he coached the teams to a total of seven area championships, four elite eight appearances, three final four appearances, one 5A state championships and is a three-time Alabama Sports Writers Association Coach of the Year.
Next year's athletic director Matt Rogers, is excited for the addition of coach Wilson. Principal Chris Shaw as well is ready for Wilson to come in and make an impact on the program.
"Sparkman High School has a great tradition in sports and education, when you think of Sparkman High School, you think of our basketball program," Shaw said. "When we posted this job we were hoping to attract the best of the best, we had a lot of resumes but one name that kept coming up was Jarvis Wilson."
Wilson plans to take care of the team and continue doing what he has done at his other schools, win.
"This is the best job in girl's basketball in the state of Alabama, it is an honor to be here and to be serving this school," Wilson said.