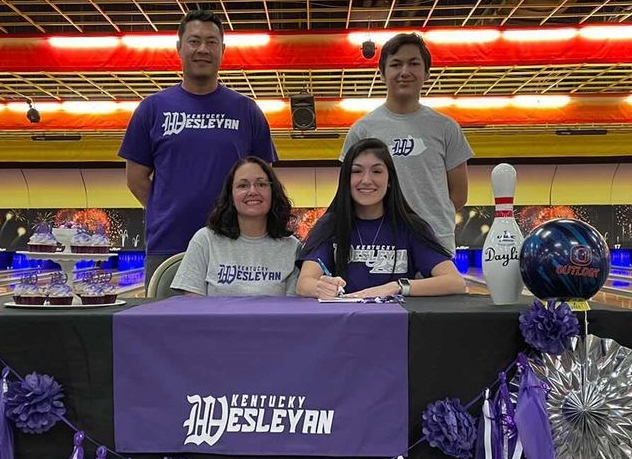 Photo Credit: Photo by Madison Duboise
Senior Signs Scholarship to Bowl at Kentucky Wesleyan
Senior athlete Daylin Tolgo has lived her life surrounded by bowling, from her parents playing to working at a bowling alley Tolgo has had a legacy to fulfill ever since she was little. This past week Tolgo completed that destiny when she signed with Kentucky Wesleyan.
Tolgo has always had a connection to bowling, both of her parents have been involved with the sport, her father has bowled since he was in high school and when her parents got together her mother became involved with the sport. Tolgo's brother as well is on the bowling team, he joined at the same time as her.
"I have a great connection with bowling. I started because of my family so the sport really does mean a lot to me," Tolgo said. "My parents have helped me succeed by pushing me to become a better bowler and person as well."
Tolgo has grown as an athlete throughout her time on the bowling team, overcoming her fears, dealing with anxiety and working as a team where some of the things she learned to grow in during her highschool career.
Word got to the current coach at Kentucky Wesleyan about Tolgo and she was contacted by the school. She began looking at the school from there and fell in love.
"What made me want to commit and what I liked so much about the school was that the team and coach were so friendly. I also loved the school as a whole, I really loved the small campus and the small community surrounding the school," Tolgo said.
Tolgo also received offers from three other schools including Spring Hill, SCAD and Emmanuel. 
"I felt so honored when I was offered scholarships and was being looked at. I never thought that I would ever be able to have an opportunity like that," Tolgo said. "As a collegiate bowler I hope to grow mentally and physically, I hope that mentally my game will get better and I will learn more on a professional level of bowling."