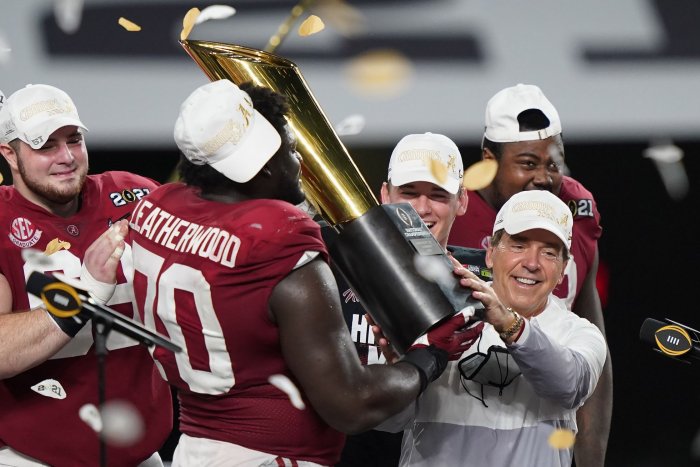 Photo Credit: Photo Courtesy of UA Athletics
Crimson Tide Takes Title in Unusual Year
The 2020 college football national championship has finally concluded and saw the Alabama Crimson Tide take home the coveted trophy with a dominant 52-24 victory over the Ohio State Buckeyes. All was good and the game gave fans offensive output never before seen in this game but yet, something was still different.
The environment of the national championship game is supposed to be one of the loudest and exciting events of the year with a packed stadium and thousands of parades and parties joining together to view the contest, but almost none of that came to fruition this year. Yes, the arena had some fans in it but nowhere close to the 65,000 fan capacity that the Hard Rock Stadium can hold. Clips of the streets on the respective campuses were nearly empty due to the COVID-19 outbreak.
Both teams also saw themselves likely more handicapped than normal. On one side, the Crimson Tide were without the services of offensive lineman Landon Dickerson and stand out receiver Jaylen Waddle and even right near halftime superstar receiver Devonta Smith went out with a finger injury. For the Buckeyes, nearly 13 players were sidelined due to COVID-19 and NFL bound half back Trey Sermon would see his night come to an end with a shoulder injury on the first play of the game.
Neither team was at 100%, both teams were at the disadvantage of not having their fans in the stands repping campus colors but both sides had to make due with what they had. One team came out and scored abundantly, not worrying about adversity and the other had a few hot drives and slowly dwindled under the pressure of the big stage. The COVID-19 virus has made times worse for everybody around the world and this was very apparent in the game causing the players and fans to lose the regular experience, yet would gain one that may never be forgotten.