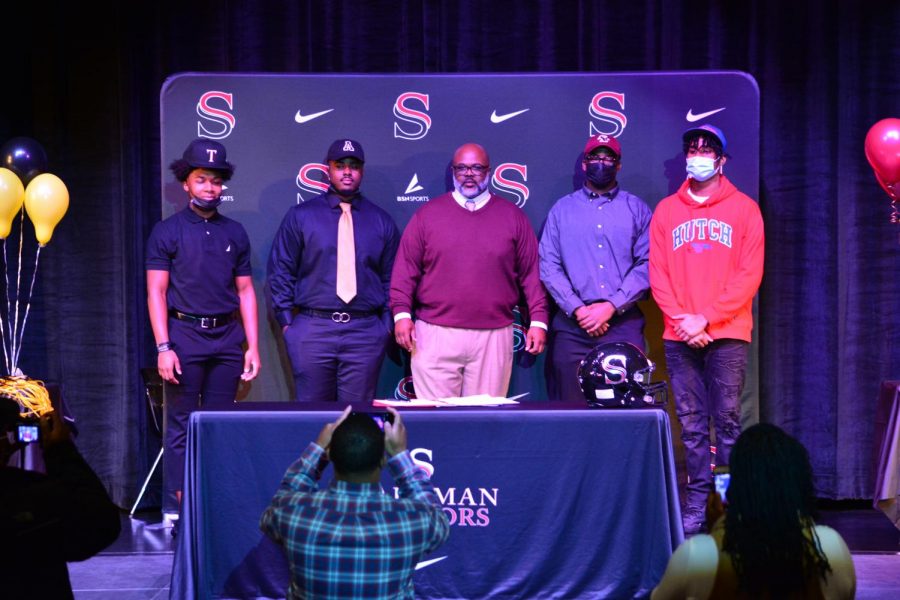 Photo Credit: Kate Irving
Senators Sign on the Dotted Line
This Wednesday seniors KaRon White, Caleb Ransaw, Tyeus Clemons and Darius Love-Roston all signed to play college football and continue the Senator legacy all over the country.
Senior and coach's son, KaRon White, signed to Appalachian State University in North Carolina and fulfilled his dream of one day playing college football.
"Of course I am sad my high school football career is over but at the same time I have been dreaming of being a college athlete since I was 4 so the fact that I have turned my dream into a reality was emotionally overwhelming," KaRon said.
After the football season was affected by COVID-19 the boys believe they finished strong and closer than ever. The group of 4 boys decided to have their signing day together in order to remain a team even after the season is over. 
"I chose to sign with this group because these boys are my teammates, they are my brothers. We did all of this together so it felt right to celebrate together," Karon said.
Love-Roston signed to Hutchinson Community College, Clemons signed to Boston College and Ransaw signed to Troy University. Despite their many adversities the boys overcame many obstacles this year to get through their high school football careers. 
"The class of 2021 has had it extremely rough, especially for the athletes, these boys right here have proved themself both on the field and in life as students and young men. These opportunities in front of them today are because of their work ethic and character these boys have," head coach LaRon White said. "I know myself as well as their parents and friends are extremely proud of them and the work put in by each of them."
Despite COVID-19 putting a strain on their season and even during their signings with a limited audience, the boys remained positive about their experiences this entire year.
"I want to thank everyone who has supported me throughout my life and I hope that I will continue to make those people proud," Ransaw said. "I chose Troy because they fit my play style and they also showed so much love for me."
Both KaRon and Ransaw graduated a semester early and will be joining their teams this January. The boys have seen their hard work from both off and on the field pay off and are overjoyed to join their new teams early on.
"I am excited to go out and make a name for myself elsewhere, I hope to go on to be the best I can be and continue both the Sparkman legacy and my father's," KaRon White.