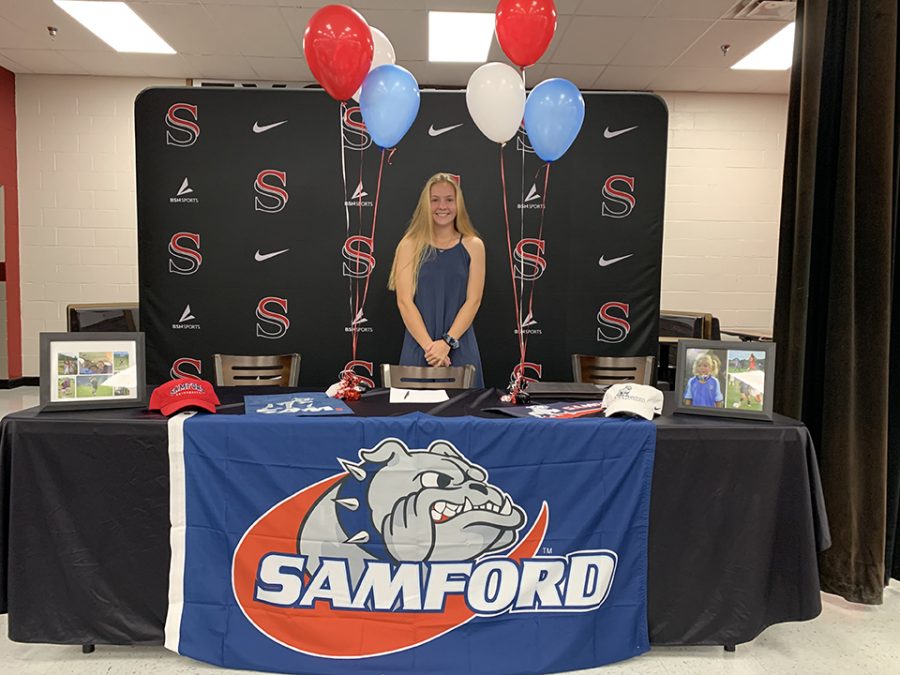 Photo Credit: Photo by the Hovis family
Senior To Continue Soccer Career At Samford
Senior Kellie Hovis had one goal to make before her high school soccer career is up. After a season-ending injury, Hovis was left discouraged and was out for her recruiting season. This year has been one of recovery and triumphs for Hovis.
Yesterday, Hovis committed to Samford University to play soccer for the next four years.
"I chose this school because the coaches are very family oriented and treat each other with respect. Samford is also top in their conference," Hovis said. 
Hovis has also received an offer from UAB and was in the process of receiving one from Mississippi before her injury. 
"I was also going to many camps in Alabama and Mississippi from Auburn, Alabama, South Alabama, UAB, to Mississippi State," Hovis said. "It was amazing to finally be able to talk to colleges and hear what they have to offer me, it did feel like everything I had worked for had paid off."
Hovis plans to play midfield since Samford recruited her for a midfield position. She also plans on majoring in Exercise Science to hopefully become a physical therapist in the future. Even despite COVID-19 and her injury, Hovis has spent her time off working to get stronger than ever.
"During the pandemic I have been going to a private trainer and working to reach my goals physically," Hovis said. "Being out for my recruiting season was the main discouraging thing that really affected me. I was scared that none of the coaches would know who I was or that I would not get recruited at all, but Coach Yelton at Samford took a chance on me and gave me an offer while I was in recovery."
Hovis has fallen in love with both the team at Samford and also the school.
"I had taken many visits to Samford and seen the beautiful campus many times but it took one time to see how the coach treated his players for me to realize that it's the school I wanted to go to," Hovis said. "We will have a great team this year and hopefully we will make history."
Hovis finally is going to score that goal she has been running across the field for, signing with Samford means a lot more to her than just spending the next four years there but finally seeing the results of her hard work paying off.
" I was so excited and thankful of everyone who has been there for me these past years. I cannot wait to attend Samford University. Go Bulldogs," Hovis said.