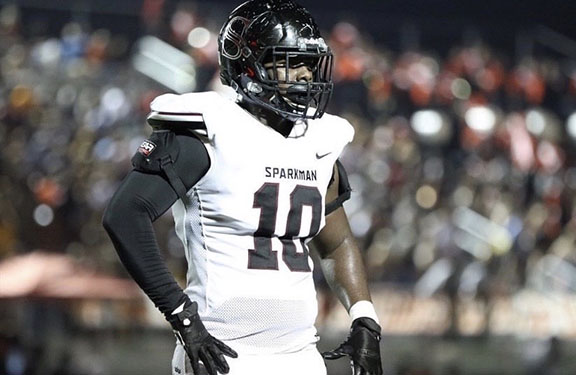 Scott Lowe
Senior Chooses Appalachian State for Post Secondary Career
 Twenty-nine schools tried to court him, but only one could have him. Thirteen months after his first Division I offer, KaRon White made his decision. He was going to Appalachian State.
 Choosing to attend Appalachian State was not an easy decision for White, as he had to evaluate his other options first. After plenty of thinking, it became clear to him. 
 "It was an extremely difficult decision that took months to make with a lot of back and forth between schools," White said. "I narrowed it down to three schools and after a month of weighing pros and cons, I finally picked App State."
 Appalachian State has prospered since moving up to the FBS in 2014. They have beaten several Power 5 opponents, and are one of the highest ranked Group of 5 teams in the country. The program's success and winning history naturally attracted White.
"I chose App State because of the winning culture they have built with being ranked 21st in the nation, winning four consecutive Sun Belt championships, and even knocking off bigger teams last year like North and South Carolina," White said. "The coaching staff also sold me on the game plan they have for me when I get on campus."
While the next four years of White's life are set, he still has one season of high school football left. With a worldwide pandemic going on, White could be content his final year, opting to relax and get ready for college football, but White has other aspirations- he wants to win.
  "This season is definitely different but the mission never changes," White said. "We're still trying to be the best team we can be and go out and put our best game together each and every week."
 In December, White will graduate early from high school. He will then leave for Appalachian State, which is located in Boone, North Carolina. His college choice is over three hundred miles away from home.
"Of course I'll miss my family at home," White said. "But I feel like it's best for me to branch out into new territories and establish myself away from Alabama."
 When White arrives in Boone, he will be a 18-year-old true freshman. Although he will be one of the youngest members of an experienced team, he hopes to make an impact.
"I definitely plan on making an immediate impact on the team when I get on campus," White said. "I feel if I put the work in and do what I've always done I can make that happen!"
After college, White dreams of playing professionally. However, he does not just want to play football. White wants to make an impact on people's lives.
  "My plans are to make it to the next level," White said. "But I also find it a huge point to use my platform to be productive and touch as many people as I can."