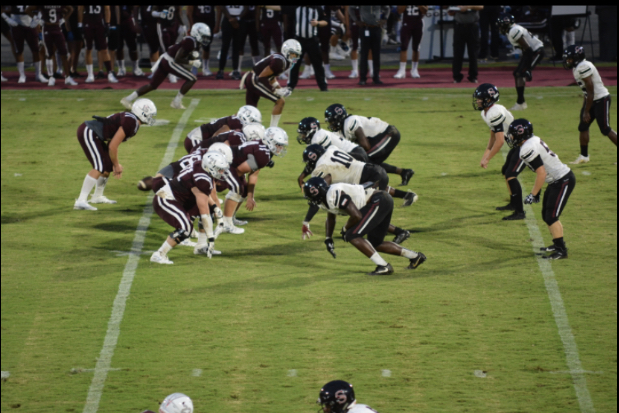 Photo By Cierra Carole
Football Season Kicks Off After Extended Break From School
After nine long months of waiting, Sparkman football was finally able to kick off its highly anticipated season Friday night, Aug. 21. In an exhibition match, the Senators traveled to Gardendale and lost 22-7. Even though the game did not go exactly as planned, the team enjoyed just being on the field.
"It was truly a blessing to go back out there this Friday," senior quarterback Nick Sawyer said. "To be able to still have a football season and have fans is truly amazing. I was very excited."
As the opening kickoff sent the ball flying high in the air, many players were nervous. With big expectations, starters felt pressure to perform well. Sawyer was one of those players, having the difficult task of leading the offense.
"My performance was not top tier," Sawyer said. "First game had a lot of jitters, and did not capitalize on a few things that could have led us to victory, but I'm headed back to the drawing board with my team and coaches so I can lead my guys to victory Friday and a successful team."
The exhibition against Gardendale was referred to as "Week 0" by the team. The team's loss will not affect their official record, but this Friday's game will. The Senators will be in Harvest next week, hosting the defending state champions, the Thompson Warriors.
 "I am not nervous at all to play Thompson," Sawyer said. "We know what we need to do to win."
Thompson dominated the AHSSA Playoffs last season, winning each game by an average of 20 points. The Warriors are nationally ranked, the only team in Alabama to earn that prestigious honor. Most high school football experts do not anticipate Sparkman to stand a chance against the star-studded Thompson football team.
 "We are going to make a statement to the other teams," Sawyer said. "When we beat them."