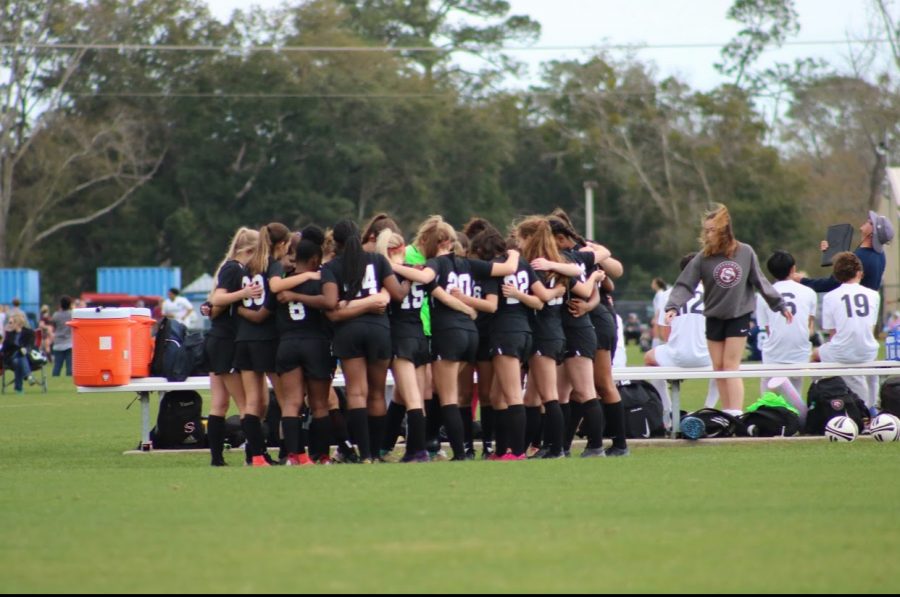 Photo By Sarah Helms
Soccer Players Start Hopeful Season
As winter comes to a close, the soccer season is only beginning. Girls and boys alike are starting to practice, get in shape and even playing their first games. 
The girls' varsity and junior varsity team held tryouts and began conditioning late 2019, and are now practicing and playing games regularly. They recently even traveled to Foley to play in a tournament.
Sophomore Gabi Alexander plays center back on the varsity team and has high hopes for this season. As a center back, her job is to protect the goal from the other team's striker and stop them from scoring. Returning for her second year on varsity, she plans to work hard to achieve success with her team.
"I'm excited to get to play with this team and grow together," Alexander said.
Because teams spend nearly every day together, they develop strong friendships with each other. Alexander explains that her soccer friendships mean a lot to her. This, along with growing up with it, has contributed to her love for soccer.
"I have a passion for it," Alexander said. "I want to get better each year."
The boys' teams have been working as well, practicing and playing throughout the new year. Sophomore Tyson Matthews plays for the varsity team as a center defensive mid. As one of the youngest players on the field, Matthews esteems the rest of the team and looks to them to improve himself.
"I work extra hard so that I can make a name for myself," Matthews said.
Matthews had low confidence at the beginning of the season but now feels that he has improved tremendously. By setting tangible goals for himself, he is able to strive for personal advancement while also being an asset to his team. This, in turn, is motivated by his love for soccer.
"I love soccer because of the people on the team," Matthews said. "They're like family to me now."
Senior Julia Helms represents the rest of the varsity girls team as the captain. Her hard work and dedication to the team serve as an example to the rest of the team and underclassmen. For her last season as a Senator, Helms hopes to lead the team to success.
"I believe this team has a lot of potentials," Helms said. "I'm excited to see how far we will be able to go together."