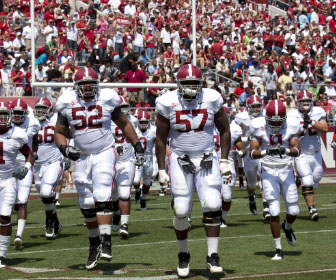 Photo printed with permission from Al. com
Despite Tough Year, Bama Has Bright Future
The Alabama Crimson Tide football team has consistently been ranked high in the nation because of their skill and adaptiveness, and as of late, some doubts have been cast on the program.
One thing analysts and college football fans alike complained about, was the way Alabama had started to run their offense. With quick routes and quick possession times, it reminded avid football analysts of a pro-style West Coast offense. This was thrown out of the window as soon as Tua Tagovailoa went down. This was prevalent in the Iron Bowl, as the possession time for each drive jumped from less than two minutes into five or six minutes.
Why did they switch these offensive schemes? This is because Mac Jones was recruited to be the successor of the traditional offense that Hurts was at the helm of. Then Tagovailoa came in for a struggling Hurts during the National Championship in 2018.
He brought an offense that nobody had ever seen from Alabama. The previous offensive coordinator, Mike Locksley, had left for the head coaching job at New Mexico State. Then, Nick Saban brought in Steve Sarkisian for a second time after Sarkisian had left for an offensive coordinator job for the Atlanta Falcons.
Sarkisian ushered in the offensive that molded perfectly around Tagovailoa and kept the Tide afloat after suffering key injuries on their defense. in Sarkisian's second tenure as offensive coordinator, he would average 46 points a game in the games Tagovailoa was actually active in. Also, the average possession time averaged at about 28 minutes in those same games, which is less than half of the game.
Then Tagovailoa would be carted off the field in a game versus Mississippi State, and would not return. Mac Jones, the traditional recruit, would take the responsibility of leading the high-powered offense Tagovailoa had been tasked to lead. The possession time skyrocketed to 32 minutes a game, a 4-minute increase, and averaged 46 points a game.
The offense Jones used goes back to the ages of A.J. McCarron and the slow-moving, unstoppable force that Alabama used to use. This scheme could be summed up as a pound-the-clock offense, which would extend drives to prevent the opponent from getting the ball back. The defense, however, would grind their opponent's per-play averages to a halt and create turnovers. Back in McCarron's final season, The Tide averaged 34 minutes of possession time and 38 points per game. Which is strikingly similar to Jones offense.
Going back to your roots can be a good thing especially if the new system was only meant to last temporarily. With Jones at the helm, if Tagovailoa is not returning, I expect The Tide to return to what they did with McCarron and Greg McElroy. The offense that the SEC is known for is making its way back into Alabama and everyone else better be ready.