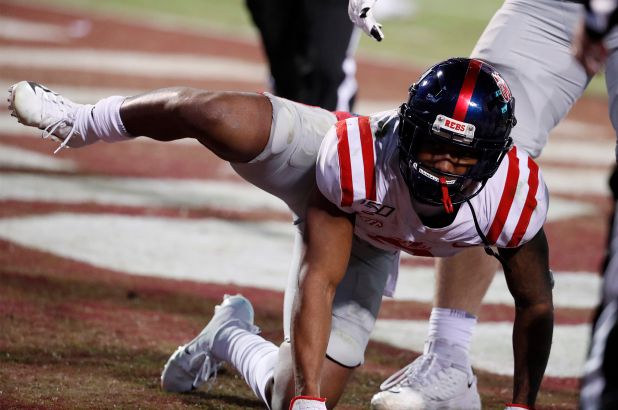 Photo Credit: Printed with permission by Ole Miss journalism
Penalty That Costs Ole Miss Egg Bowl Continues to be Debated
It was a battle in Mississippi, the renowned Egg Bowl game was held on Thursday, Nov. 28th between two struggling teams. Ole Miss Rebels fell to the Mississippi State Bulldogs 21-20 in regulation after a game changing penalty.
Ole Miss opened the game with a stagnant offense, trailing 14-0, but after finally rallying back later in the game the Rebels came knocking, pushing the scoreboard to 21-14. With the chance to send the game to overtime, Rebels backup quarterback Matt Corral connected a two-yard touchdown pass sophomore Elijah Moore to close the gap to 21-20, just an extra point away from overtime play.
As most football players do, Moore celebrated his first touchdown grab of the afternoon. There is typically nothing wrong with celebrating your touchdown as it is the biggest achievement in game but there are rules against certain celebrations. The NCAA has a set of rules in place for excessive celebrations that portray any religious, racist, and disruptive acts, this was exactly Moore's situation.
After pulling in six points to bring his team within one, Moore got down on his hands and knees and pretended to be a dog urinating on the field. Moments later the officials threw a flag for excessive celebration which would ultimately penalize the Rebels into kicking a 30-yard point after attempt. Luke Logan, Ole Miss Kicker, missed the extra point attempt wide right (by a yard or so) that would have sent the game to overtime.
Due to the current rules against excessive celebration and unsportsmanlike conduct in place, it pushed the Rebels back 15 yards after Mississippi State head coach Joe Moorhead accepted the penalty flag. Logan, who connected 58% of attempts through the season, made his previous two attempts during the game. Logan was no stranger from this distance either, with his season long make being 41-yards.
Ole Miss Head coach Matt Luke released a post-game statement on Moore's actions.
"I'm just disappointed," Luke said. "That's not who we are and that's not who he is. Elijah is a good kid."
Luke's comments came during a conference following the game, he concluded the interview that he would have to be dragged away from his job after an overall disappointing three seasons with the organization, days later Luke was fire.
Moore was also pulled to the side to discuss his actions following the score. In a long and apologetic statement following the loss, Moore apologized to the school and attempted to resolve his actions.
"I deeply regret it," Moore said. "This does not represent who I am."
The Rebels beat out the Bulldogs in total yardage throughout the game, 384-314. With a game deciding flag that will seemingly be remembered in Egg Bowl history for years to come, it was four seconds of thanksgiving miracles for the Bulldogs and cold turkey for the Rebels who saw their entire season wash away.