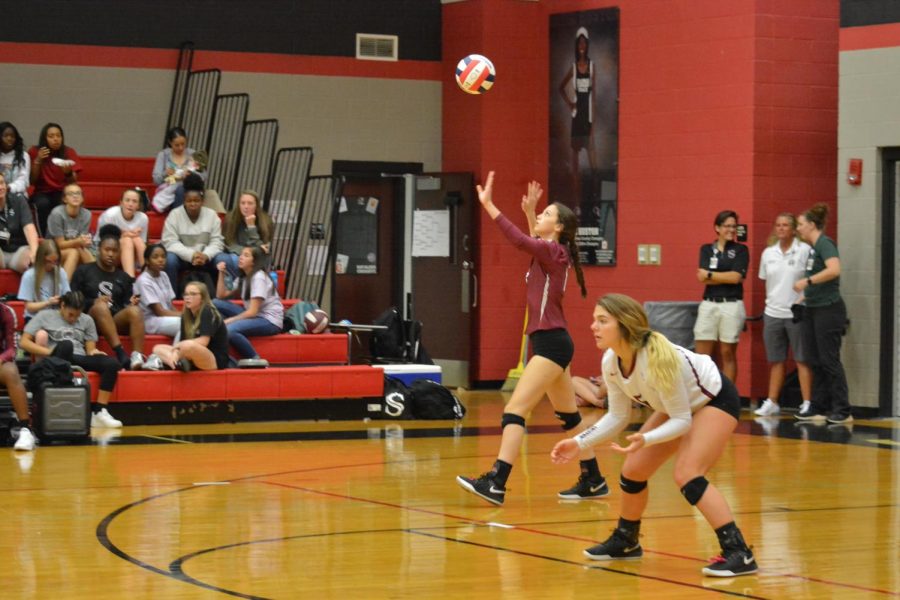 Photo Credit: Kate Irving
Team Claims Area Championship, Loses First Round of Regionals
This season, the varsity volleyball team has been undefeated and won the area championship, something they have not done in thirteen years.
The team is ranked No. 26 in the state of Alabama. They have been training hard over the summer, working in the weightroom, having morning practices and attending camps in Hoover and Samford while going to tournaments to prepare for this season. Along with practices, the girls have bonded and connected with each other to be able to work better as a team.
"Hard work, dedication, and a good team chemistry has helped us achieve our goals," Coach Brooks said .
Although each individual prepares differently, before every game the team stretches and gathers together in a circle to pray. Athletes like Iyana Grayson and Madison Raybon listen to music to get pumped up, while others have a small talk session with God. All of the athletes get nervous before big games, but they have trust in their teammates and know they prepared for their games.
"We prepared for area by staying focused and humble while practicing and making sure we improved on our weakness." senior Jasmine Brooks said.
The team played at Sparkman Ninth Grade School on Oct. 22 against Gadsden City and Huntsville High. They played Huntsville for the championship and won 3-2 to advance to regionals. 
"When we won area. I felt nothing but love for my team,"  junior Jessica Buford said "I was so proud of each and every one of them. I feel blessed having them as my teammates." 
The team was defeated by Thompson 5-2 in the first round of regionals.