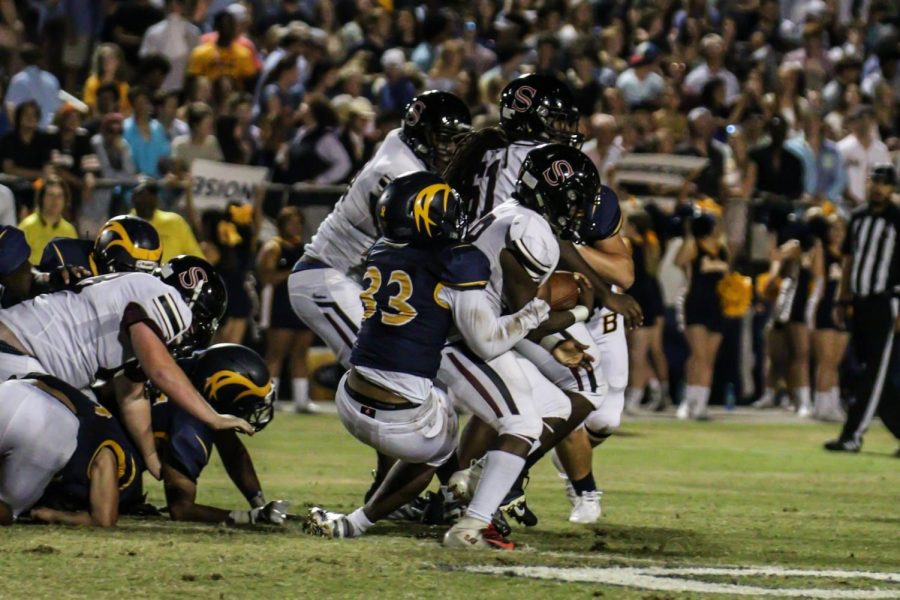 Scott Lowe
Offensive Line Provides the Protection Needed to be Undefeated
Being an offensive lineman is a task that carries immense responsibility and physical dedication. It is a position that is not noticed often by the average spectator.
In football, each team plays five offensive linemen. "Being an offensive lineman means that you have to have the toughest and meanest mentality on the field," senior Esiah Tovar said. "You play for the guys beside you, and protect the guys behind you."
With a good offensive line, great things can happen and that is proven with the team's undefeated record at mid-season.
"When the offensive line dominates, we score points," junior Micah Pettus said.
This season, one of the main reasons the team has had so much success is junior quarterback Nick Sawyer's adequate protection from the pass rush.
"I know if we do our job, Nick will be okay," Tovar said..
Offensive linemen often carry certain nonsensical stereotypes, including that they are just fat guys on the team to make blocks.
"The misconception about being an offensive lineman," Tovar said, "All of that is untrue. We have to lift weights, run, learn schemes, watch film and prepare for the guy in front of us, just like any other position."
The offensive line is not a very exciting position to fans. Since offensive linemen rarely ever touch the ball, it can be hard to be noticed.
"I'm used to it," Pettus said. "I've been playing offensive line since ninth grade."
Only those who do not mind not having attention and are willing to work extremely hard are cut out for being an offensive lineman.
"Personally it doesn't bother me that I'm not always in the spotlight," Tovar said. "From day one of being an offensive lineman you learn the motto, 'Always in the trenches. Never in the spotlight."'