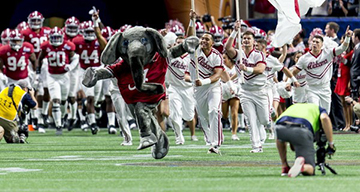 Photo Credit: Al.com
Bama Football Reigns Supreme On Top of State List
In every country music song it is spring break, in every movie it is cowboy hats or trailer park trash and in every conversation to anyone outside of the 52,419 square miles Alabamians call home, it is a yee-haw. Plantations, cotton and slavery are what you will find in every textbook and its appearance in Martin Luther King Jr.'s "Letter from a Birmingham Jail" sure did not give it the best reputation. 
Dating back to its admittance to the United States in 1819, Alabama has been known as the screw up state. Now 200 years later, it is time for Alabama to be known for the one good thing it holds, Crimson Tide football. 
It is not a surprise that football is praised in the South, but when something from Alabama is not last on the list- like in education and on the best state list- it is what people in the Bible Belt call a miracle. 
           Boasting 17 national championships and being home to legendary Paul Bear Bryant and current legend in the making, Nick Saban, unless you live under a rock, you have heard the Tide rolling. 
            The Tide is the only program to win an SEC title in every decade since the conference formed in 1933 and at least one Bama player has been selected in the first round each year since Nick Saban joined the coaching staff, including four following the '11 and '12 seasons. As if that is not impressive enough, Alabama claims an overall record of 850-325-43 during 120 seasons. 
          A Space and Rocket Center, a couple of beaches and Alexander Shunnarah's extensive marketing campaign has nothing on what a couple of touchdowns can do.