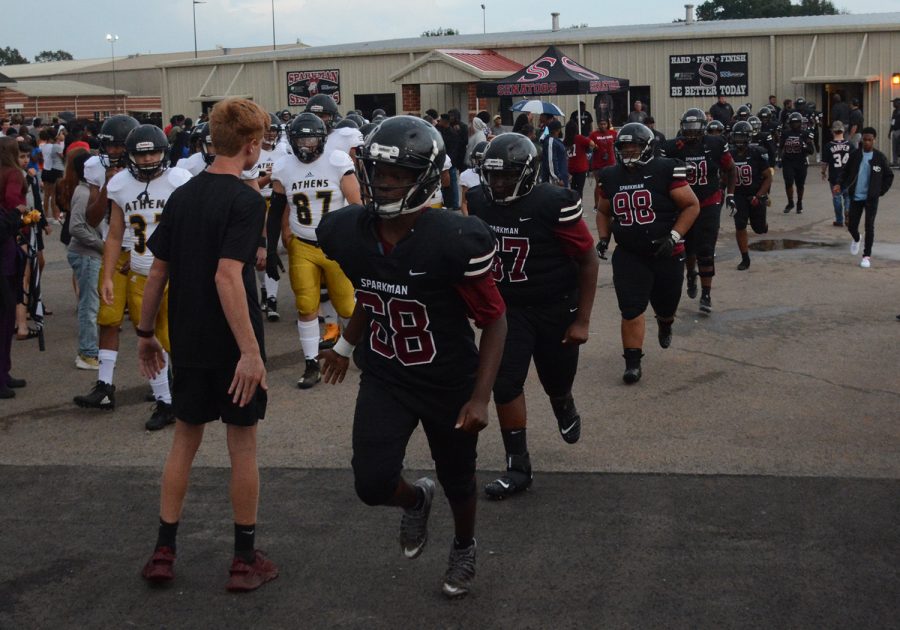 Photo Credit: Kate Irving
Players Weigh In On Jamboree Game Against Athens
Q: What were your thoughts going into the game? 
A: "I was nervous because it was my first varsity game, but I knew I'd be okay," center Terrent Young said. 
Q: In your opinion what was your biggest defensive play? 
A: "Probably the first fumble because of the momentum shift and our offense scored. It was a great drive," linebacker Lane Mason said.  
Q: What was the turning point in the game in your opinion? 
A: "When the defense brought the energy to the game. We sacked the quarterback and he fumbled in the third quarter," defensive tackle Jordan Adkins said. 
Q: How do you think this game reflects what's coming this season. 
A:  "I think it shows that we're going to be a good group this season. We should win a lot of games," offensive tackle Micah Pettus said. 
Q: Although others thought that the jamboree game wasn't important, why was it important to you? 
A: "It gave us a preview of the type of chemistry we are going to have on the field and it gives us film that we can use to adjust our game," fullback Mekhi Wall said. 
Q: After playing this game, what do you think needs to be improved? 
A: "We can improve on our offense and running plays right," receiver Cameron Foley said. 
Q: What motivated you and/ or what adjustments did you make if any to come back in the second half of the game? 
A: "When the twos got in we knew that we needed more points, so the ones were hyping the twos up in the locker room at half time," offensive guard Marrion Hammond
Q: What was your proudest moment other than winning? 
A: "Some people probably didn't think they would get in and they did. They made plays too. Some freshman went in and made their first varsity football game catch and that was amazing to see," wide receiver Jadarius Richardson