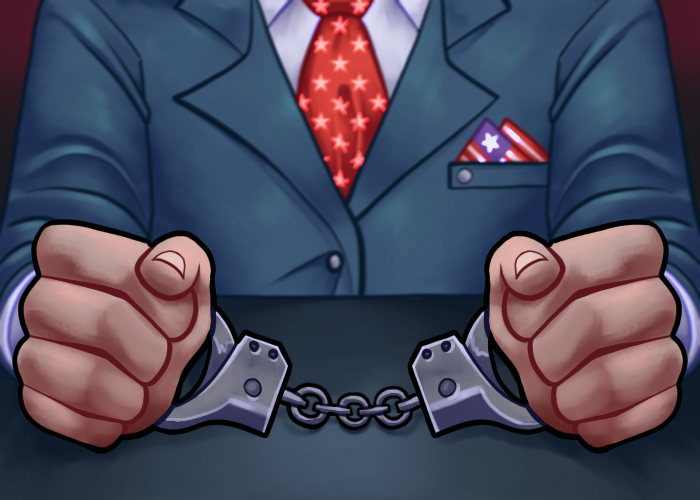 Junior Shares Viewpoint on Trump Indictment
The words rang through his head, the final sentence, the finishing touch, the phrase that proved that he could get away with anything. The words "not guilty" left the judge's lips, causing a wide grin to spread across the face of former president Donald Trump.
On April 4, Trump was charged with 34 felony counts of falsification of business records in the first degree. During Trump's election, he tried to bury anything that would give him a bad name and ruin his reputation. On top of that, he was able to bribe several people to keep quiet about his wrongdoings.
Trump gave away more than $300,000 dollars through bribing women and other business officials to keep his name good. Though these instances were exposed, Trump was able to plead not guilty to every single count.
One of the women Trump paid was Stormy Daniels, an adult film actress who spoke out a couple of years after their affair, saying that Trump threatened her physically and legally if she spoke out about them. Daniels' testimony opened the door for other women to open up about the abuse they also endured from Trump.
It is clear that Trump uses his money as his safety net, as his shield from the harsh realities of life outside of the presidency. Even before he came into office, he had a long string of accusations of sexual assault and even human trafficking, yet the devilish green paper known as our currency has swept these heinous crimes under the rug.
Because Trump has yet to be properly punished for his alleged crimes, it widens the gateway to corruption in our government today and in the future. Trump is an example that no matter what you do or say, money and power will always protect you. But his luck is going to run out soon.
If Trump was not rich or did not have a reputation to uphold, he would have easily pleaded guilty to every single charge against him. However, because he is a former president with a lot of money, he is easily able to get away with anything.
Trump is still a human, he is an ordinary citizen. He should not get special treatment in court just because of a title. He committed a crime that he should have been held accountable for. This is a huge fail from the government and a complete slap in the face to the people he has hurt. He is nothing but a little boy that uses his pile of cash to hide away from the truth.