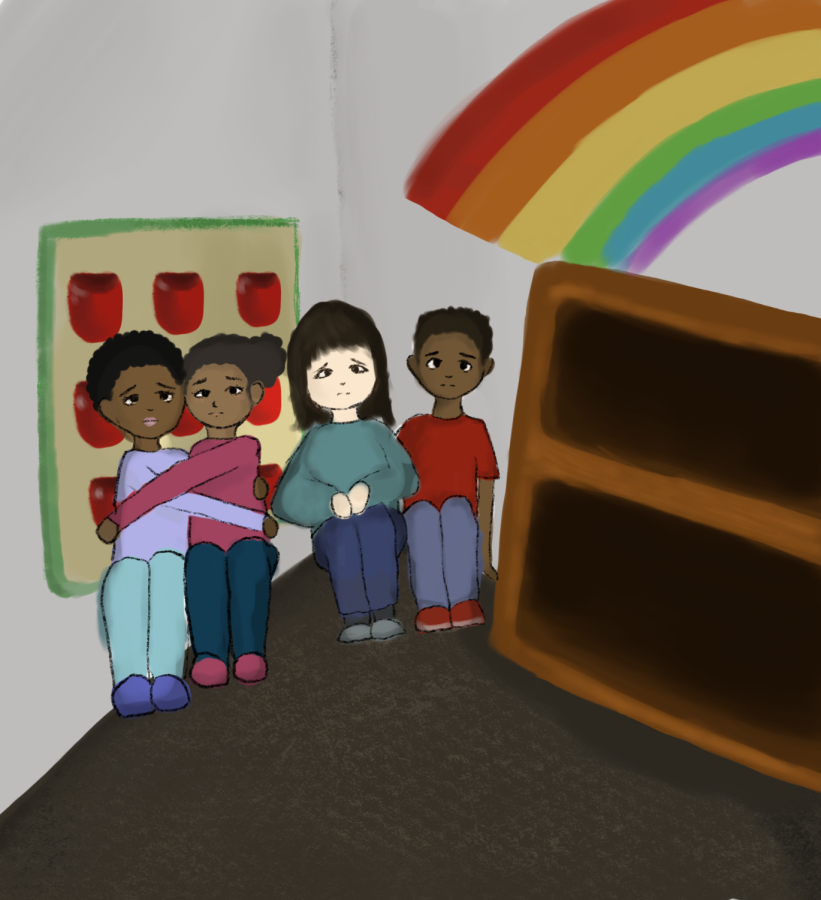 Photo Credit: Art By Jasmine Bezotte
Senior Inspects Effectiveness of Lockdown Drills
According to research, 95% of American public schools drill students on lockdown procedures. Yet, there is almost no research affirming the value of these drills for preventing school shootings or protecting the school community when shootings do occur. 
Lockdown drills have been an active concern in American schools. It has been practiced for years and is one of the most crucial drills to school enforcement. Working towards better strategies that will help save more lives could help students and staff be better prepared and safe in the case of emergencies. 
In the past decade, dozens of school shootings have taken place across the country. Students and teachers of all ages have lost their lives due to an active shooter. It is an unfortunate reality, but it must be recognized. Bringing awareness is one of the first steps to beginning a new path to ensure school safety.
According to "The Mit Press Reader," one of the criticisms of conducting a lock down drill is that teaching students and staff to hide behind locked doors may make them "sitting ducks," a term often used in news reports that discuss bringing option-based training to schools.
Option-based training has been a growing topic in the media. As people look for ways in regulating lock down drills, option-based training is a new method that is being promoted. 
Another study from "The Mit Press Reader," multi-option approaches such as, A.L.I.C.E., (which stands for alert, lockdown, inform, counter and evacuate),  Run Hide Fight, or Avoid Deny Defend are being used increasingly to empower people with a survival mindset and to train individuals to use a variety of options, including running or fleeing the scene and barricading the doors, actively resisting or fighting an armed assailant resorted when no other options existed.
Another one of their studies reported that a further argument for option-based approaches is that law enforcement personnel have used distraction techniques successfully to stop an incident and save lives.
Using these new methods has proven to be more effective. Navigating defensive methods instead of hiding methods will help students and staff know their options and utilize them compared to students being trapped in a corner and feeling helpless. 
A teacher, who was teaching at Robb Elementary School, was interviewed by "NBC" and in the interview she said she shouted for her students to get under desks as she sprinted to lock the door. She said that they had been practicing for this day for years. They knew it was not a drill. They had to keep quiet or else they would give themselves away.
The massacre of Robb Elementary School was one of the most devastating days, especially for parents, family and friends of those students and teachers who lost their lives. Seeing these tragic events take place is all the more reason to reach for a change.
Alongside statistics and studies on improving defensive methods there are also studies that explore the large spectrum of who, what and why of a school shooter. From mental health, bullying and other leading factors there is a lot to consider when it comes to the mind of an active shooter.
During a study done in Alfred University, students were conducted in a poll of what they think is the leading cause of an active shooter. Eighty-seven percent said they believed it was for revenge against those who hurt them, 86% said it was because of bullying, 62% said because they did not value life, 61% said that it could be from abuse at home and 56% said they believe it is because of mental health problems.
These are only some of the reasons their student body believed to be contributing causes to school shooters. One interesting thing about the students' response was that the majority of the student body believed the leading cause was revenge. According to a U.S. Secret Service study, most students who committed deadly school shootings over the past decade were badly bullied.
People have been negatively impacted by their past and environment. Could we as a society ask if we can only judge the person who committed the crime. Could we also judge the person who was a consistent bully or that one parent who abused them. This is not to excuse their actions but to simply open our eyes to their possible perspective. One must ask if it is really just pure hatred, or just pure hurt. 
Seeing the mental health aspect of an active shooter could help prevent school shootings by speaking up and speaking out when we see someone in danger of being physically, emotionally or mentally hurt. Speaking up is the first step in prevention of lost lives because we see them where no one else saw them, the place where they were hurt.
A study done by Jilian Peterson, who is a professor of criminology at Hamline University, was done on the people responsible for mass shootings in the past 50 years and this is what they found: For the man responsible for killing six and injuring six in Chesapeake, Va., on Nov. 22, 2022, thought his co-workers were conspiring against him. The man responsible for killing 10 and injuring three in Buffalo, N.Y., on May 14, 2022, had dropped out of college and lied to his parents about it. The man responsible for killing 11 and injuring nine in Half Moon Bay, Calif., on Jan. 21, 2023, believed his family tried to poison him.
The statistics could go on. These are only a few examples of what each person's perspective could look like. A common problem in this issue is all these people who have hurt people have been hurt by someone else. While there are no reasons to take innocent life, people are expressing their pain in a way that is severely fatal and they are people who are a part of our society.
As we look for solutions to solve lockdown drills, let us also consider those who are being bullied in our schools and those who have been looked down upon. Because they could be only hurting because they have been hurt by someone else.