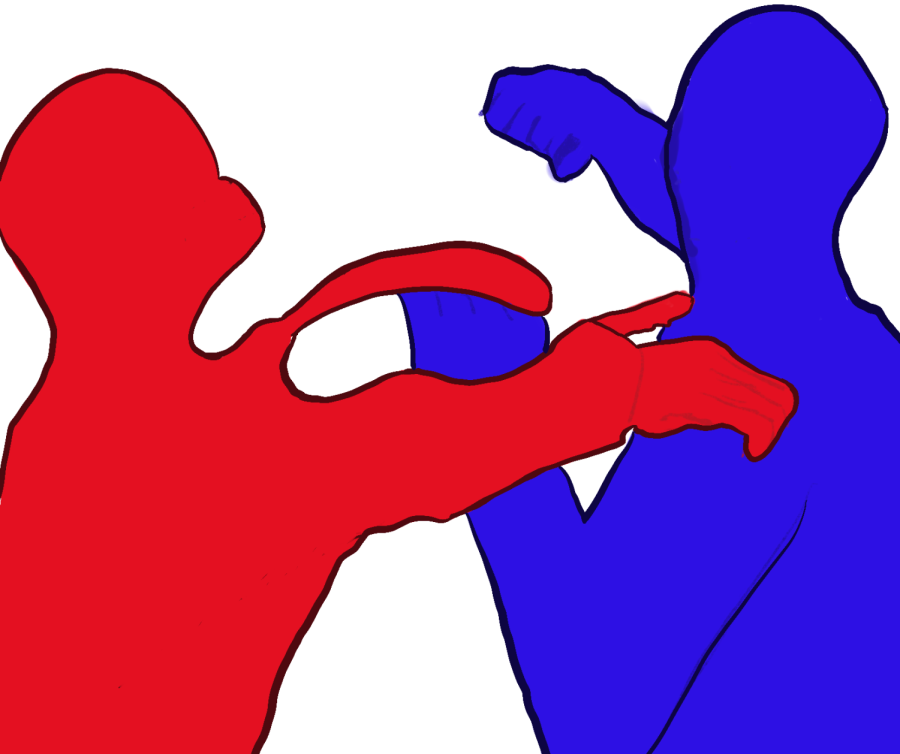 Photo Credit: Art By Jasmine Bezotte
Junior Criticizes the Nation's Division
Over the last four to six years, politics in the United States has caused the citizens and the country itself to become increasingly divided. Nobody can see eye to eye on anything which causes opposing forces to run a country ineffectively. It is like the analogy of when an unstoppable force meets an immovable object. It does not move and instead stays in place. This resembles the state our nation is currently in because instead of moving forward, it is stuck dealing with the same problems with no solutions in sight. 
For example, Republicans do not support abortion while Democrats do.This is a subject that both sides have completely opposite views about so instead of coming to terms and making the best decision for the country the two sides are still arguing.This led to the topic of abortion being back at square one. Another topic they cannot agree upon is gun control. Republicans are more pro gun and believe citizens deserve the right to arm themselves while democrats are for more gun control.They have been battling back and forth for years without coming up with a solution to save lives.This problem has only continued to get worse as there has been more mass shootings than days in 2023 and we are currently entering the month of February. These statistics make it clear as day that our politicians are more focused about fighting each other than solving the problems at hand.
The politicians' bad influence over the citizens has caused them to fight one another. The people cannot agree and have developed a mindset that there is only one right answer and that is their opinion. People stop being friends with one another based on political beliefs. Statistics show that 53% of Americans end their friendships because of political differences.This is a big deal because over half of Americans are willing to give up friendships due to having different opinions.Things are not looking great considering how Americans have turned against each other based on beliefs. It doesn't help when our leaders are encouraging this behavior.
These politicians need to step it up and set a good example while focusing on the real problems at hand.They should instead focus on the people that are struggling to afford a home and worried about their safety and rights, instead they are more worried about who is right and who is wrong.