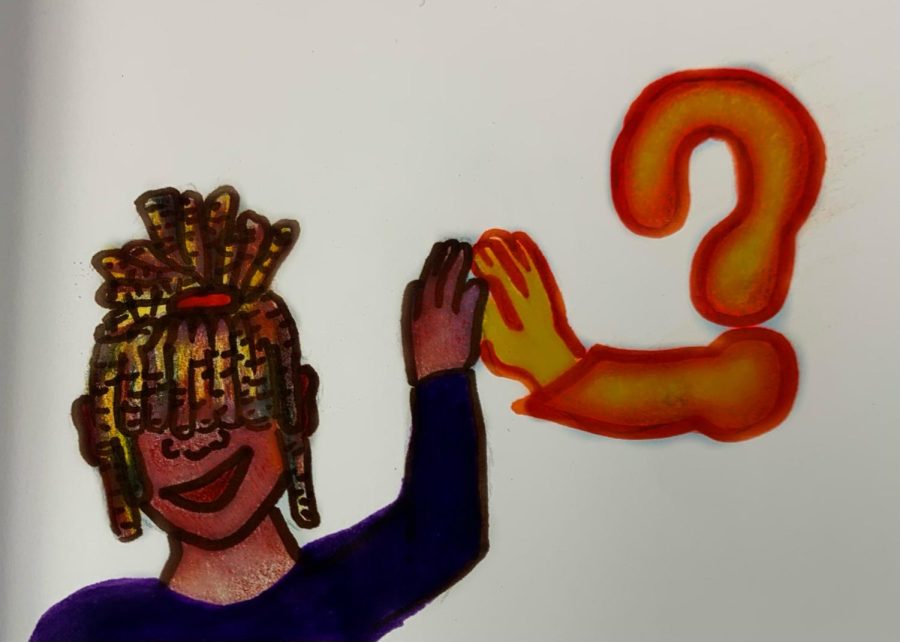 Photo Credit: Art By Autumn Gollop
Friends Forever: Senior Defines The True Meaning of a Friend
What are friends for? 
The answer: a source of that warm feeling in your chest knowing you are not all that alone as times may seem, but also the frustration of someone knowing just how to push your buttons in an endearing but aggravating manner. It is a blessing to have them without a doubt. However, I find it so fascinating how a friend is not just limited to the confines of a human that is just like you. A friend can be a different race, age and even species and someone won't think twice about how you both are so different. But that is the beauty of friendship. It can look weird or strange on the outside but mean a lot more than you would think to someone on the inside.
Think of the bonds you have. Of course you can think of the occasional person at school that has popped into your life at some point and maybe even the ones you have met online, but what about the others? What about that old man whose trash you take out right next door? What about the pet you own that you don't feed because your parents do it for you? What about the stuffed animal you were given one birthday? What about your car, does it have a name? All these are examples of bonds for sure but could some be acknowledged as a "friend?"
Aristotle defines a friend as "reciprocates goodwill; friendship cannot be formed with an inanimate object because you can't have reciprocated goodwill with an inanimate object." However, that begs the question where the line is drawn between a friend and bond. A person talks back, so that's a friend. A dog barks back, so sure we'll count that as well. What about a stuffed animal? Little teddy doesn't talk but when you felt sad in elementary school he gave you the same comfort and warmth as if your friend was right there with you. No talking needed, yet it reciprocated goodwill by just being there. If a person didn't say anything back just like the bear and let you hug them they'd be a friend right? Being there was enough of a response that would have stopped your tears. So through a little bending of the rules, we can classify a teddy bear as a friend. Could those same rules be used for imaginary friends? Little teddy is at least real, but your imaginary friend is neither real nor are they "actually" talking back. 
Seniors share their experience…
"I had a friendship with a praying mantis I found on my back porch. I called him Harold, and we spent an entire evening together while I ate dinner and fed him grain." senior Eva Candia said.
Harold does not talk and he was claimed as a friend at that moment. 
"I had a bear named Austin when I was little and whenever I was scared he was always there. He gave me a sense of peace as a child that I still hold dear," senior Donell White said.
If something needs to "recipricate goodwill" would it need to talk and have a soul or would it's existence be enough? Children have loose constructs of what a friend is, especially with movies of other children making friends with toys yet we don't question whether it should actually be classified as a friend. For example, the movies "Toy Story" or "Winnie the Pooh." Which are both movies about toys that don't talk back to their kids, yet they are deemed as friends by the child. So with all this deep thinking and pondering on what a true friend is. Tell me. Is your teddy bear a run of the mill plush…or is it a friend?