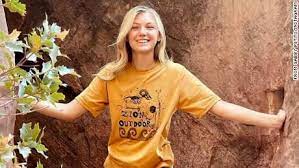 Photo Credit: Newssource
Murder Case Inspires Talk of Treatment of Women
October 13, 2021
This past week a heartbreaking story has fascinated the world. Coverage for the story is all over the news and social media.
Gabby Petito was reported missing on September 11 by her mother. She had been on a road trip with her fiancé for the past couple of months. Her fiancé, Brian Laundrie, came home on September 1 without her. When asked where Gabby was he refused to tell the police anything.
Gabby was last known to be in Wyoming headed towards Yellowstone National Park. Documenting the road trip was something Gabby loved to do. She filled her Instagram with detailed posts and captions about what she got to explore. Gabby also had a YouTube channel where she filmed vlogs. Another priority of hers was keeping in contact with her mother. The last known text she sent to her mother was on August 30, but Nichole Schmidt is not so sure it was her daughter.
Close friends and family members are also suspicious that her last two Instagram posts were not her. Usually, her captions were very detailed about her experiences. However, the last two captions were nothing like Gabby. The final caption just says "Happy Halloween." A theory about the posts and last texts from Gabby is that they were actually Laundrie's texts. People also think that his parents are involved.
This case received a lot of media attention. It had so many people hooked waiting to hear where Gabby was. Theories were made about who did it and what kind of punishment was needed.
On Sept. 22 it was confirmed that Gabby's remains had been found. This news was absolutely devastating. I had been following the case and was hoping for a better outcome. She was only 22-years-old. She had so much more life to live and so much more to explore.
Her parents never got a goodbye. They never got to hear one more "I love you." She left for a road trip and never came back. To think her life was just taking off. She was going to get married soon and hopefully start a family, so many good things were coming. In one split second it was all taken away. No one should have to experience that.
Gabby's case brought a lot of attention to missing cases in general. Specifically because it involved a couple. People were using her case as proof of why people should teach young boys how to treat a lady.
It is really wrong for people to use her case like that. The main suspect is her fiancé but he is currently missing. Just because someone told him he should be respectful does not mean he will. This crime is thought to be premeditated. Every case has a different story behind it. Gabby and her family should just be respected right now.
Gabby deserved better along with so many other missing people. For now all we can do is pray and hope that justice is served.