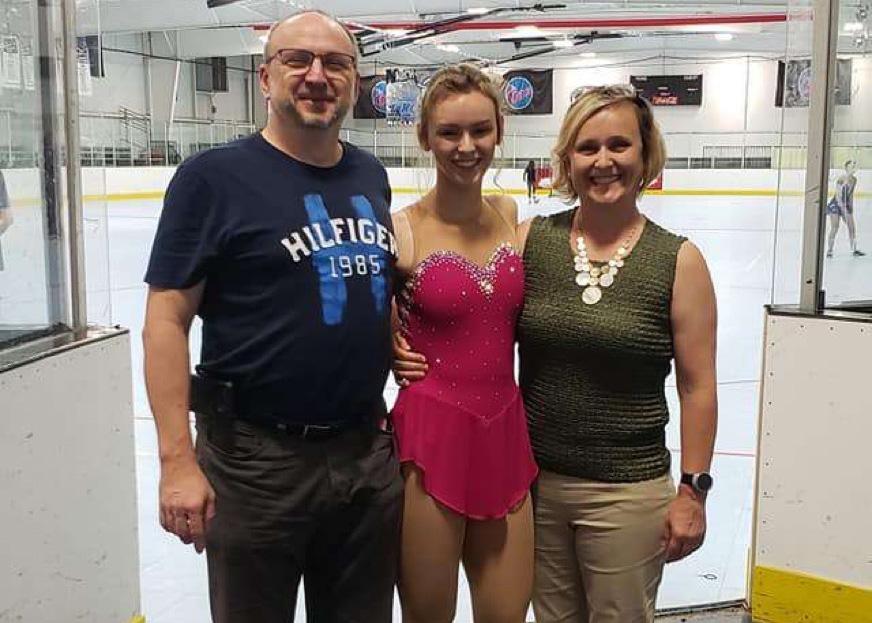 Photo by Amy Stuchlik
First Generation American Shares Experience Growing Up In America
I am a first-generation American. My family did not come from Europe 200 years ago, but six months before I was born. My parents were born in Czechoslovakia in 1965 and 1966, so they lived in a world different from my friend's parents, and raised me in a different world from theirs. When babies were learning words in English, I was learning words in Czech too. When kids were watching Scooby-Doo and Mickey Mouse, I was watching Czech cartoons. When my classmates took their summer vacation to Disney World, I went to Czech and Slovakia and had side trips to Austria, Germany, Italy, and France. 
   My parents have taken me to the ballet, opera, and the theatre since I was 6, so I would have an appreciation for the arts, which in turn has made me a crazy "theater kid". My mom was also a talented, elite gymnast when she was younger, and she shared her love for the sport with me by teaching me to tumble when I was four years old, a skill that has gained me opportunities in multiple shows. Both of my parents, but my dad especially, mainly play their favorite songs and movies around the house; their song selection from the '60s to the '80s, their foreign music, and movies, along with their favorite American classics have given me a broad musical taste and love of films.
I have been involved in multiple activities since elementary school, and in most of them, I am mediocre at best. However, my parents never discouraged me, they always supported me, they were at every game, competition, concert and show, even if I was not the star. This means a lot because when they were growing up no one supported them. My dad had to fight to be able to pursue the career he wanted to because the odds were against him due to the political climate of his country. My mother recently shared with me that when she was growing up, no one ever told her that she was doing a good job, in gymnastics, in school, anything. She said that she realized she could have done better at school and possibly even made it to the Olympics if she had someone's support, but she did not realize that until her last year of college. 
While my parents may sometimes disagree with my beliefs, they would always respect them, because they were in my shoes 35 years ago. When my parents were growing up, Russia invaded their country for 21 years from 1968 to 1989, and as my parents grew older they protested in the Velvet Revolution and supported the path to democracy in their country. They were also activists in environmental issues like I am now. However, they learned that while they were activists, some of the people they were supporting had taken advantage of them, so they became more careful. Because of their life experiences, they understand why I want to be an activist, and why I believe in what I do, but they also proceed with caution and give me the advice they gained from their mistakes, so I would not get hurt as they did. 
Ever since I was little I never wanted to stay in Alabama, and my parents understood. When I told them I wanted to apply to NYU or Colorado State, they never said no. They told me it would be hard, and that I need a good scholarship to make my dream a reality, but they never stopped me from applying. They have never stopped me from pursuing my dream, any dream, no matter how crazy or unrealistic it was.
 I have always felt different from my friends, but a good kind of different. We had different traditions, beliefs, and dynamics than your typical southern family, and sometimes people look at us like we are the Addams Family. However, I would not want to change a thing about how I grew up.