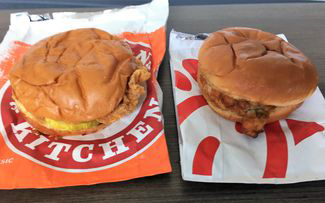 Photo Credit: Photo by Brody Wallace
The Great Chicken Sandwich Debate
September 4, 2019
Before football games or after work on a Tuesday night, the Chick-fil-A chicken sandwich has been a staple for highschoolers, and I don't think Popeye's will being taking that spot anytime soon.
People everywhere went into pandemonium after Popeye's announced they were introducing a chicken sandwich to their menu. Shortly after, Twitter exploded with excitement as well as anger from both Chick-fil-A and Popeye's fans. Chick-fil-A soon clapped back and the feud began, with things being said that could never be taken back. The hashtag #ChickenSandwichWars started and people made it their mission to try both sandwiches.
On Tuesday, Aug. 28. Popeye's officially announced they had completely ran out of the $3.99 chicken sandwich at all locations. In fact, I could not even get a sandwich to properly weigh in on the debate of which one is better.
The chain had to explain to thousands of eager, hungry customers why they could no longer supply the monstrosity that was the Popeye's chicken sandwich. They said it was because they had not anticipated the amount of popularity the sandwich would quickly gain through social media. If that is the case, they should have prepared for the disaster they started by trying to compete with Chick-fil-A.
It's quite funny how Popeye's says that Chick-fil-A is inferior due to the fact that the business is not open on Sundays thus unable to feed customers, but the fact is that Popeye's cannot even feed their customers throughout the week.