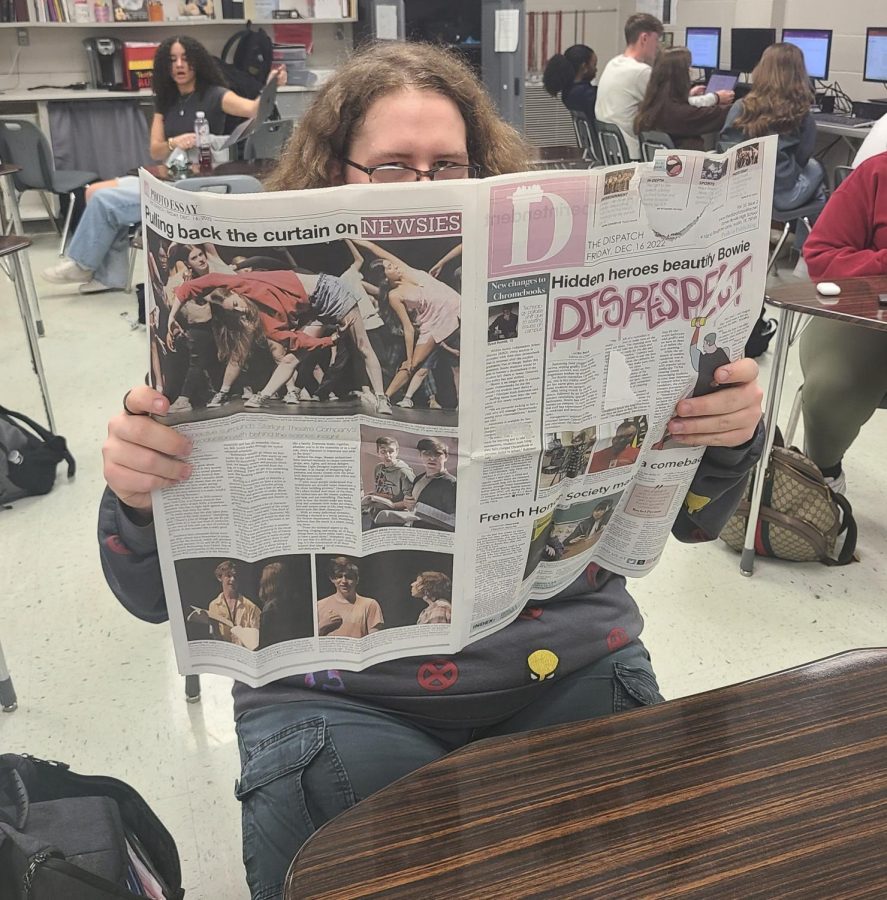 State's Major Newspapers Cease Printing Disappointing Many
In December, AL.com , the company that owns the three major newspapers in the state, announced that The Birmingham News, The Huntsville Times and the Mobile Press Register would stop the production of print on Feb, 26 2023.
The loss of print means less news sources which means less credible stories, even though most people are already familiar with strictly digital news there are people who will suffer from the loss of print being their version of news. Solomon Crenshaw, a retired reporter from The Birmingham News and current freelancer, realizes the value in digital news, but also sees the harm in the lack of print news.
"Social media has provided many outlets through which information is available. But all information is not news. More to the point, some of what is presented as news is actually rumor and misinformation," Crenshaw said. "In that sense, having fewer credible sources can make it harder to tell credible news from the mindless noise. But some would say the surviving digital product of Alabama Media Group and AL.com is dedicated not to informing its readership but stockpiling pageviews. With that standard having been lowered before the presses stopped turning, I doubt any greater harm will be felt."
The internet is filled with a variety of news websites with extensive coverage of diverse issues, but print holds something special in the lives of certain people.
"The internet has long been called the information superhighway. Sadly, people without access to the web don't have an on-ramp to begin their information journey. Digital outlets would say they can only benefit if folks who had relied on print are forced to merge into their lane," Crenshaw said.
Another issue with moving to print is the state's access to broadband internet services. According to BroadbandNews, the state currently ranks 38th among states in this capacity, thus roughly one in 10 Alabama residents are not able to purchase an internet plan of 25Mbps. This, along with the older populations who are not as familiar with using the internet, could be difficult for those people to be able to move into the world of strictly digital news.
"Are they capable of moving to digital news? Many are. Some will move into the digital age kicking and screaming," Crenshaw said. "The younger generation is known for being more willing than the older generations to click on a story that was posted online, the older generations have a mentality of if it's posted on the internet then it's obviously fake. Clearly the generation of my son and daughter are much less likely to grab printed reading material as opposed to something on a cell phone or tablet. And the cost of newsprint is so high. But the two can coexist if a producing entity wants to do it."
For scholastic journalism adviser and freelance journalist Erin Coggins, the thought of the community not having a print newspaper is scary. She says the very idea of the newspaper was created to be the "watchdog of society" and with the culture of digital media, this is falling through.
"Like Solomon said, news becomes more clickbait when it is only in a digital version. This allows for sloppy reporting because now the job is beating the next guy a little faster than it was in the print days," Coggins said. "I feel this will only continue to make journalists fail to really report. Print media is needed. It is the foundation of our democracy and to give it up so easily, is sad to me. Also, Huntsville is the largest city in the state now and for them not to have a print newspaper is detrimental to the community."
With the change in media, Coggins finds herself having to adapt to the new digital media in the classroom. Now, journalism classes here at Sparkman are more focused on convergence media.
"
I have to find a way to make sure my students see the benefit in writing for a website, making videos and using alternative ways of storytelling. It's not a bad thing and it will only prepare them for a future career in journalism, but I just can't let go of print. It's too important."
— Erin Coggins
Both Crenshaw and Coggins agree that the ceasing of printing the big three papers will be noticeable, but it should also give community journalism a boost.
"Admittedly, options are limited. The easy answer — which Alabama Media Group, publisher of the aforementioned newspapers, would endorse — is that those folks would simply "get with the program" and get their news digitally," Crenshaw said. "Clearly, that is at least difficult for some news consumers. Some will be able to get print \news from local weeklies or monthlies, especially in smaller communities."