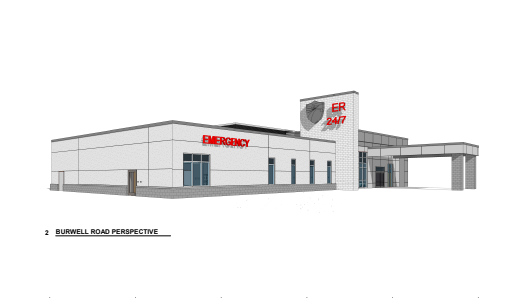 Photo Credit: Courtesy of Crestwood Hostpital
Crestwood Upgrades Local Medical Scene
Soon, the citizens of Harvest will advancements in their medical scene. Crestwood Medical Center announced plans to construct a freestanding emergency room in Harvest. Crestwood plans for the ER to be approximately 12,000 square feet, and to offer a variety of on-site imaging and lab services. The ER is set to begin operations in 2024.
The structure will be the first freestanding ER in north Alabama, and will open the door for expanding medical care into rural Alabama. The ER will allow residents from Harvest and surrounding areas to receive trauma-center level care without having to drive a 30-60 minutes to receive medical aid. 
"Currently, residents depend on the heroic efforts of volunteer fire departments and local emergency medical services (EMS) for emergency healthcare," Crestwood CEO Matthew Banks said in a press statement "We are committed to bringing more access to healthcare services that the residents need and deserve."
In current emergency situations, residents of the Harvest area must call the volunteer emergency responders and wait for them to arrive and assess the situation. 
"When EMTs get on scene we assess the situation and determine the severity of their emergency and treat accordingly," EMT Kyler Albright said. "We treat and stabilize the patient until HEMSI arrives to transport the patient to the appropriate facility."
Due to the current distance to the nearest hospitals, Albright explained that the EMS system is flooded with constant calls. These calls range in both severity and in type of accident. They respond to things such as fires, collisions, search and rescues and emergency medical situations such as cardiac arrest.
"A new ER may reduce strain on the EMS system," Albright said. "Compared to people calling 911 and waiting on an ambulance they may be able to have a family member take them to this facility and be seen by an emergency physician quicker." 
If local residents are able to report directly to the ER instead of calling 911 first, Albright hopes EMTs will be able to respond to emergencies even quicker. Along with offering relief to emergency services, a new ER may help current hospitals with overcrowding. 
"With this facility it may also benefit other facilities, as lower acuity patients will be able to go here instead of downtown," Albright said. "I think the ER will benefit Harvest, Monrovia, Toney, Bobo, Ardmore and surrounding communities."
Local residents are comforted by the idea of an ER in the area, and are eager for it to be built. 
"I think the idea of having an ER closer to me is comforting," senior Joy Morgan said. "In an emergency situation, you're already worried enough about receiving help quickly enough, having a long drive just makes that even scarier."
Morgan says that when she's had to go to the ER in the past it was a very long wait to be admitted and to see doctors. She believes that having a new ER would help prevent this for people in the future.
The new ER is expected to have 10 exam rooms and multiple imaging rooms, all created to mimic the current Crestwood''s emergency rooms. The ER has been designed to be of equal quality to the previously existing ones, and will hopefully help the area in a variety of ways. 
"It will come with the capabilities of one trauma facility,"Banks said to WAAY31 "It'll have advanced imaging, lab services and come with the same ER physicians that take care of you today at Crestwood."