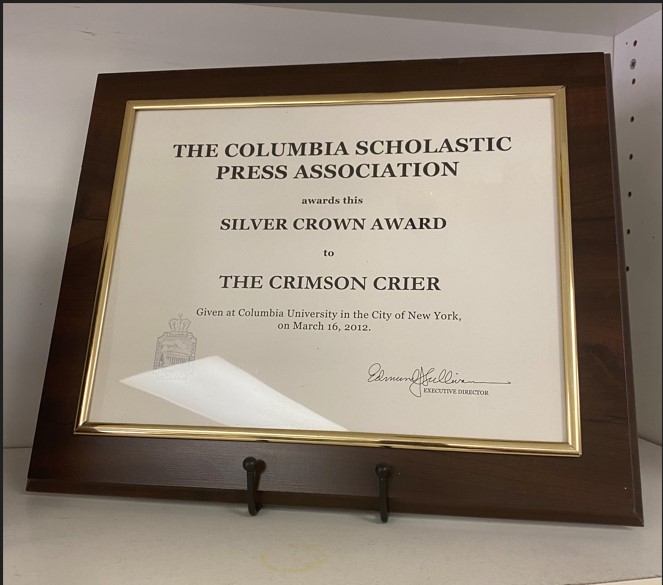 Photo Credit: Vee Lewis
Staff Awarded High Praise for Hard Work
Recently the Crimson Crier staff was awarded with a nomination for a 2023 Crown Finalist from the Columbia Scholastic Press Association located in New York City. 
As the crown nomination is the highest award you can get, this is a huge achievement for the staff. The staffs Adviser Erin Coggins was overjoyed when she heard the news, as the last time the publication placed so high was with the silver crown in 2009 and 2014 and did not expect the nomination at all.
"Honestly, I was surprised and not because I didn't think we couldn't do it. I was just not paying that much attention to the announcements until they caught my eye on my FB feed", Coggins said. "I then went to the official list and saw us there,"
This nomination was such a surprise to the staff as it was an almost entirely new staff with brand new writers and editors on the team. 
"It was a new staff and we had our days of struggle, but we made a solid publication and that is what took us to this level," Coggins said. "Tess was a great leader and went the extra mile to make sure the final copy was ready to be printed, free of as many errors as possible. The reporters came up with good story ideas and executed them well."
Tess Warren, the editor in chief, played a major role in helping the staff get to where they are now and to achieve such a great goal. Warren was surprised to hear the news when Coggins gave her a call to share the unexpected because she did not know what to expect.
"When Mrs.Coggins called me I knew it was either something really, really bad or something really, really good," Warren Said ".Thank goodness it was the ladder and even though she had to explain what exactly the crown award was, my jaw dropped. Because I'm just so proud of the staff and all my editors and all of us working together to be better leaders to build a better staff,"
With such a great honor there is sure to be the want of keeping the streak going. Coggins believes the staff can one-up their performances in past competitions and that the staff should aim for the pacemaker nomination the upcoming year. If the staff keeps up the hard work and effort that they gave the past year then it should be an easy goal.
"Every single person has worked so hard in their dedicated areas to do the absolute best," Warren said."I believe that everyone in this room has earned it and wants to be here because they've shown it and they deserve this award,"
Getting this nomination was not an easy task, the staff had to overcome many difficulties throughout the year that challenged the staff's alliance with each other.
"We as a staff had to have a lot of conversations and communicate with each other about what each of us needed and we had to listen to each other's wants and concerns." Warren said "We worked through everyone's strengths and weaknesses, I want them to be proud of what we made and I hope that they can be proud of themselves because they deserve this award," Warren said ," It's a team award and that means this award is for every single person and  every single part they play, no matter how big or small it was,"