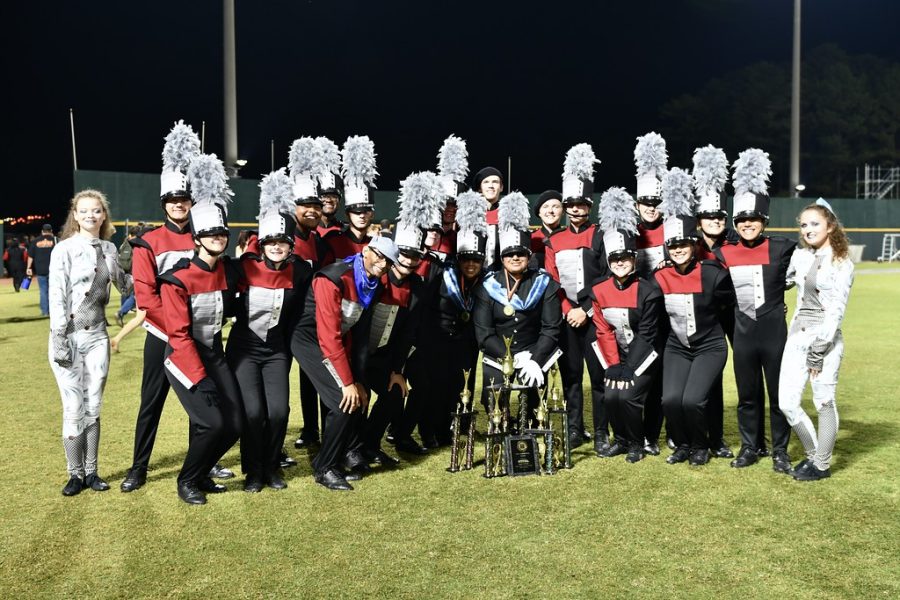 Photo Credit: Photo By Scott Lowe
Band Takes Home Second Place in First Competition of the Year
The band took home second place in the first competition of the year. 
With a new director, the band was a little behind in practicing for the competition, causing stress to run high in the practices leading up to the first competition. Tyree Davis, the baritone saxophone player, feels he did not experience stress where other students did.
 "The rehearsal and practice was not very stressful to me, more like it was very tiring and took up most of my time. We would put in hours in for practice during school and after school, at least 9-10 hours a week not including rehearsals during class," junior Tyree Davis said.
The rehearsals required the band to add Monday rehearsals to an already extensive schedule. The band already has after school practice on numerous days throughout the week.
"Both rehearsals last at least 2 hours. Monday, Tuesday, Thursday, Friday, and Saturday were all days we used for practice, Friday's were also game days from 5-12. Saturdays were competitions that lasted 4 hours," Davis said.
The first competition was on a Saturday and every competition after will also be on Saturday the next week. Students have to be there early and do not get home until anywhere from 12 a.m.to 2 a.m. William Webster, a saxophone player, believes he and the band arrived on time.
"We arrived at the competition around 5 o'clock and got ready to warm up. After we performed, we went back to the buses to eat and go watch Hoovers exhibition show, then we had awards and left a little bit after 9:30 I believe," junior William Webster said.
While the band was striving for first, Webster was proud of their performance. He has hope for the next competition as the band will work hard to improve.
"I think we did well for how soon we finished the show and how rushed we were that week. We can always do better and we had many issues to work on but with what we had I think we did alright," Webster said.
Webster puts himself in a mindset to always strive for improvement. He believes motivation is key to performing at the best capacity possible at long all-day competitions.
"So the competition for us lasted about 4-5 hours," Webster said. But for me, I think the competition started the moment we had band camp. Mr. Nash is always telling us that other bands are working harder than us so it motivates us to work harder. We are always competing against the other bands, even when we aren't physically at a competition," Webster said.