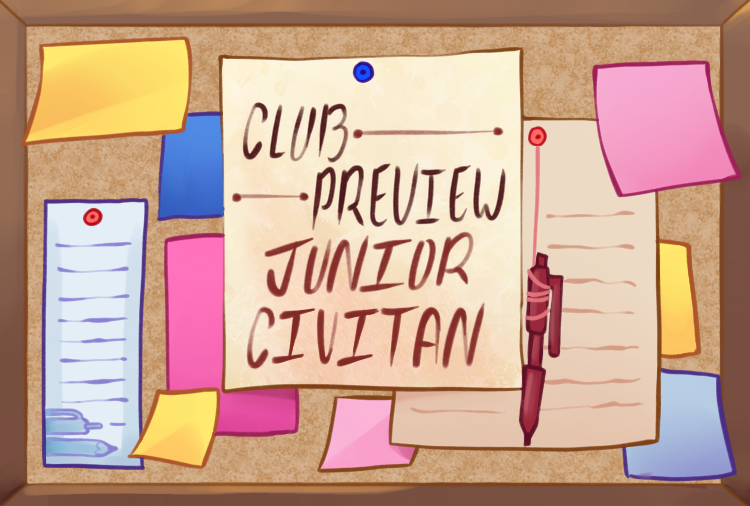 Photo Credit: Art By Olivia Lake
Club Preview: Junior Civitan Serves Community
Crimson Crier: Describe the purpose of this club.
Hannah Stovall: The purpose of Junior Civitan is to create an organization of young individuals who exemplify service leadership in order to support their community, initiate positive change to solve issues, and become builders of good citizenship in the home, school, and the nation.
CC: What activities do you do throughout the year?
Stovall: This year, we are planning on doing two projects that will get the school and surrounding Sparkman community involved. When we are not planning those events though, we are usually serving at local nonprofit organizations such as House of Harvest and Free 2 Teach. We are also involved with SLC (Sparkman Learning Community). We plan their annual Christmas Party and also support each student when they compete in the Special Olympics. In the past, we have also helped our troops overseas and sponsored a Christmas Toy Drive.
CC: What do you hope to accomplish this year within the club?
Stovall: This year, our goal was to expand the club to have more diverse student body involvement. We also want to have not only more of a direct impact on our surrounding community, but also do larger projects with far-reaching implications such as hosting a Walk 4 Water to raise money for clean water in Haiti.
CC: How do you join this club?
Stovall: I became involved in Junior Civitan in 9th Grade because all of my friends joined. After joining though, I did not regret my decision. Not only did I participate in several fun events, but I was also involved in numerous service activities and had the opportunity to develop a deeper connection with my community.
CC: Are there any requirements to join? If so, what are they?
Stovall: No, anyone can join as long as they pay their club dues ($30) and attend the majority of meetings. There is no service hour requirement and we are flexible with people´s busy schedules.
CC: When/where does the club meet?
Stovall: The club meets at least once a month in Ms. Ford´s room (RM. 223).
CC: What do you have to say to students who are considering joining?
Stovall: If you want to become more involved and make fun high school memories, then Junior Civitan is a great organization to become a part of! It's a great balance of leading, serving, and developing interpersonal skills that will aid you in various aspects of life. You should definitely check it out!!
CC: What do you enjoy most about this club?
Stovall: I honestly enjoy spending time with the people who are in Junior Civitan and having the opportunity to serve with them. The great thing about Junior Civitan is that you are always surrounded by an enthusiastic group of students who want to be involved and strive to create positive experiences.
CC: How do you hope this club impacts students?
Stovall: I hope this club makes a lasting positive impact on students. I would love for it to encourage them to always have a service mindset and look for ways to initiate positive change. I also hope that everyone involved in this club inspires younger students in elementary and middle school to become service leaders and to never limit their goals and visions when it comes to following their purpose and helping others.