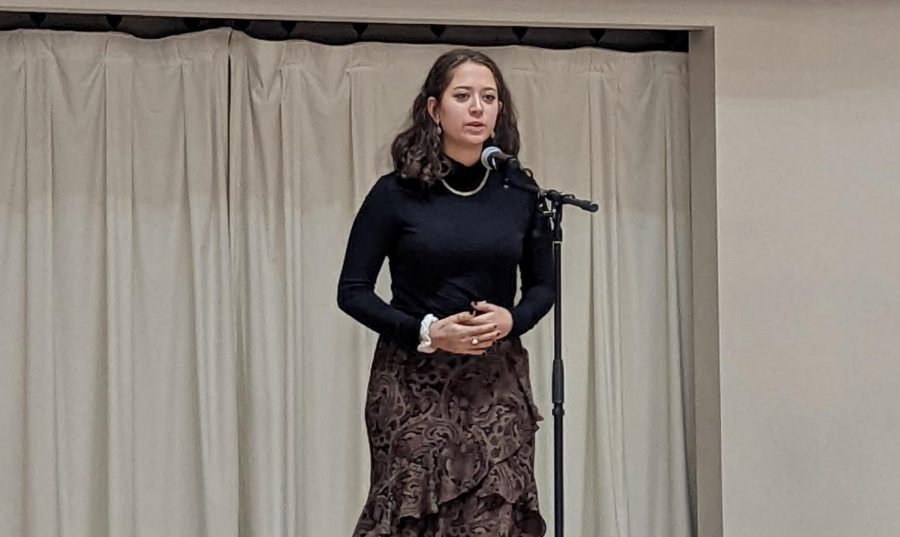 Photo Credit: Photo by Renee Quaife
Students Compete in Annual Poetry Out Loud Regional Competition
December 16, 2021
Story Two:
Seniors Isabel Blevins and Kallianne Borden participated in the state regional Poetry Out Loud competition held in Decatur on Friday, Dec. 10.
"In the enjoyment of competition, I feel this opportunity allows everybody to compete and show off their skills and get the chance to compete," Blevins said.
As usual, the competition at the regional competition was tough. After winning the school competition, the girls began preparing for the intimidation that sometimes comes with performance based competitions.
"Sometimes in competitions It is really intimidating because the other people in the competitions are just as good and are surjective because everyone's poem is different," Blevins said. "You also never know what the judges are looking for so it's very nerve racking.
Blevins says she also employed some special exercises to make sure she was ready to go before the panel of ten judges.
"Usually before competitions I do these special arm and leg movements where you move and kick your leg in one direction then in the opposite direction and just keep doing that," Blevins said.
This was Borden's second time to compete in the Poetry Out Loud competition. Her first experience was last year during the COVID protocol where all entries were held online.
"We had to send in videos of us reciting our poems," Borden said. "I then received an email over Christmas break in 2020 saying I made it to the state finals. In state finals last year I wrote and recited original poems entitled "Perspective and Redeemed, and also a poem entitled Beauty is and Trapped."
Blevins finished third in the anthology and will compete in the state competition in February.
"The most memorable part of competitions for me is the advancing and the winning," Blevins said. "I love to win but also advancing in a new stage of learning is a key part of talent development."