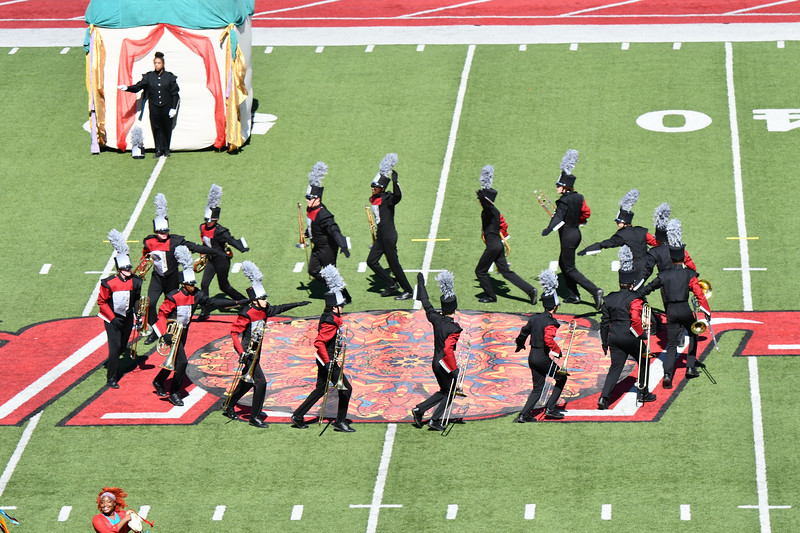 Photo Credit: Courtesy of Sparkman Band
Band Makes Finals in Band of America Competition
In order to compete at Bands of America (BOA), the Band took a bus to Jacksonville State University on Oct. 16 to compete against 24 different schools around the country. Starting in July, the group started setting the show during band camp and putting work to the newly learned music in preparation for their upcoming competitions.
Senior and colorguard performer Sara Hunt constantly practiced for the betterment of her and the band, dedicating her time and energy in order to meet her standards of what she deemed necessary to be successful.
"Color guard practiced everyday during 1st block, we added an extra rehearsal on Monday, had after school practices with the band on Tuesday and Thursday, and then we had a practice just for color guard on Wednesday," Hunt said.
"
"During the one week leading up to the competition, the band put in over 12 hours of preparing for the competition. Individually, I took every opportunity I could to practice tosses or go over work I was struggling with so that I could be more confident in myself and my performance for when the competition came.""
— Sara Hunt
As a senior, Andrew McKnight was rewarded with the opportunity to take the spotlight with a trombone solo of his own. His solo was eight measures by itself and then 10 measures alongside an alto saxophone performing roughly 30 seconds to a minute.
"My solo is my favorite part. I've worked to make the entire show great, but winning the solo against some very good trombone players and working super hard to perfect it just makes it all the more special for me," McKnight said. "It is really rewarding to have the solo, but also very stressful. Being isolated like that allows for everyone to hear you, both your beautiful playing and your mistakes. You have to work extra hard to make sure that there aren't any mistakes in it."
After the band had performed at 12:30 p.m. for prelims, they received a finalist award, causing the band to perform yet again for finals at 7:30 where they had placed ninth. It was a very major success for the band overall, causing many to feel an overwhelming sense of pride and accomplishment. As a senior, Madison Allen had been working with much effort to perfect her skills with the flute and was extremely overjoyed when she heard the band had made finals and placed.
"After our finals performance, everyone was hugging each other and crying and just generally so proud of how we did. Many said it may have been our best run through of our show yet," Allen said. "Everyone in the band is an amazing person and I'm truly honored to be a part of an organization that works as hard as we do. This will definitely be a successful competition season."