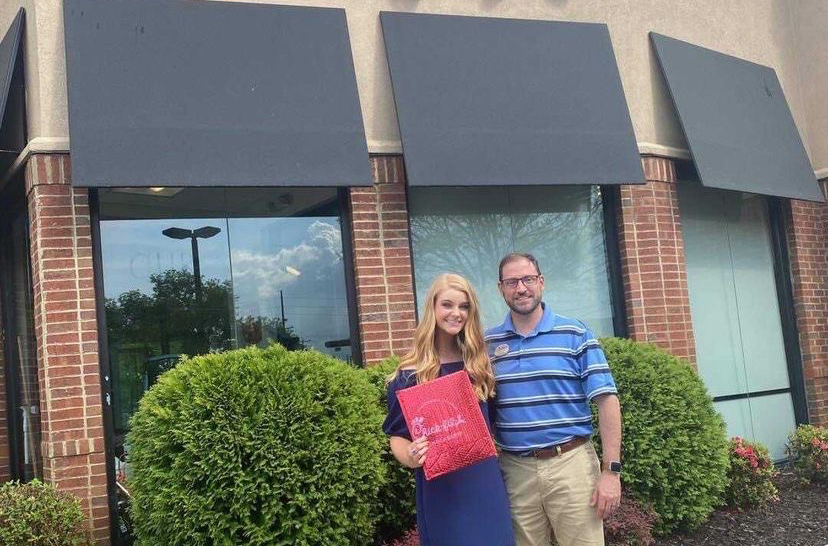 Photo Credit: Courtesy of Sarah Taylor
Senior Receives Two Scholarships in One Month
Serving is nothing senior Sarah Taylor is unfamiliar with. NHS president and Chick-fil-a employee is just two of Taylor's many titles and her service and dedication to the things she does is paying off in a big way.
Taylor received a National Honor Society scholarship for over $3,000 and a Chick-fil-a scholarship for $2,500 this past month for her dedication to serving others.
Taylor plans on majoring in nursing at The University of Alabama.
"I am so incredibly honored to be awarded these scholarships! I think it just shows the hard work really does pay off," Taylor said. "Getting a portion of the fees for the four years covered will help me be able to do a specialized program after I graduate without it being so expensive."
Taylor spent almost five hours working on her application for the National Honor Society scholarship which consisted of short answer questions, three essays and multiple letters of recommendation. 
National Honor Society has been a big part of Taylor's life, showing her the importance and impact of serving.
"Our community is always in need of service, you just have to look for it. Acts of love and kindness can radically change someone's day, and even their life," Taylor said. "Working alongside people with servant hearts can broaden your opportunity to serve and promote working together to benefit others. It has shown me the importance of working hard academically and the opportunities that come through that. It has shown me how vital being a strong leader, student and community member is."
Taylor's application for the Chick-fil-a scholarship consisted of examples of her leadership, service and community participation and a letter of recommendation from her boss. Working at Chick-fil-a is another opportunity that has opened many doors for Taylor.
"I can genuinely say that working at Chick-fil-A has been one of the biggest blessings in my life. I have met so many wonderful people, who are now my best friends. It has allowed me to build relationships with my coworkers that I want to hold onto for life. This job has taught me patience;  it has taught me quick problem-solving and important job skills that I can use in the future. Most of all, it has taught me that just a little kindness can make someone's day," Taylor said. "Each day I try to go in with a 1 Corinthians 13:4-8 mindset. It can be easy to go through the motions of just getting the job done, but love truly prevails and can make a world of difference when you are intentional about demonstrating it. I'm definitely not perfect at it, but my goal is that my life reflects that verse in all I do. I have been so impacted by so many experiences and relationships that I have been able to have at Chick-fil-A."
These two scholarships are one Taylor's peers, co-workers and leaders believe she is well-deserving of. It shows in her hard work ethic and dedication to any task she is given.
"I truly try to put my all into both my job and National Honor Society. I think being a leader is really valuable to help you become successful," Taylor said. "Just doing minimalistic effort may check the box, but really giving whatever you're doing your all can be the deciding factor. I have tried to be a servant and a good leader in both of these roles and hope that I have been able to do that well."
Taylor is thankful for these programs she is involved with, the opportunities these organizations have given her are not stopping yet. She hopes to use the skill sets working at Chick-fil-a and NHS have given her to continue serving the world.
"I am so grateful for the scholarships because these programs have had generous people donate money to be able to better the futures of young adults like me. Most of all, I am thankful for God's provisions and the blessings that He has given! It all comes from Him," Taylor said.
Taylor is also extremely grateful for the encouragement she has had from friends, family, coworkers and others. She believes she would never be where she is today without their constant support and love.
"I cannot thank my family enough for all they have done to help me excel. Their constant love, support, encouragement, and prayers have spurred me on to keep pushing to be the best I can be. They have been such beautiful examples of love and kindness, serving in their workplace, our church, and our community. Their example has encouraged me to live a life of loving others and serving others," Taylor said. "My friends have encouraged me and have worked alongside so much of it with me as well. I have been able to reach out to friends and participate in service projects with them. I know that if there is a need, they want to help meet it, and it is such a great thing to be able to serve others together. I know all of my friends will be so successful in their futures because of their leadership and loving hearts."