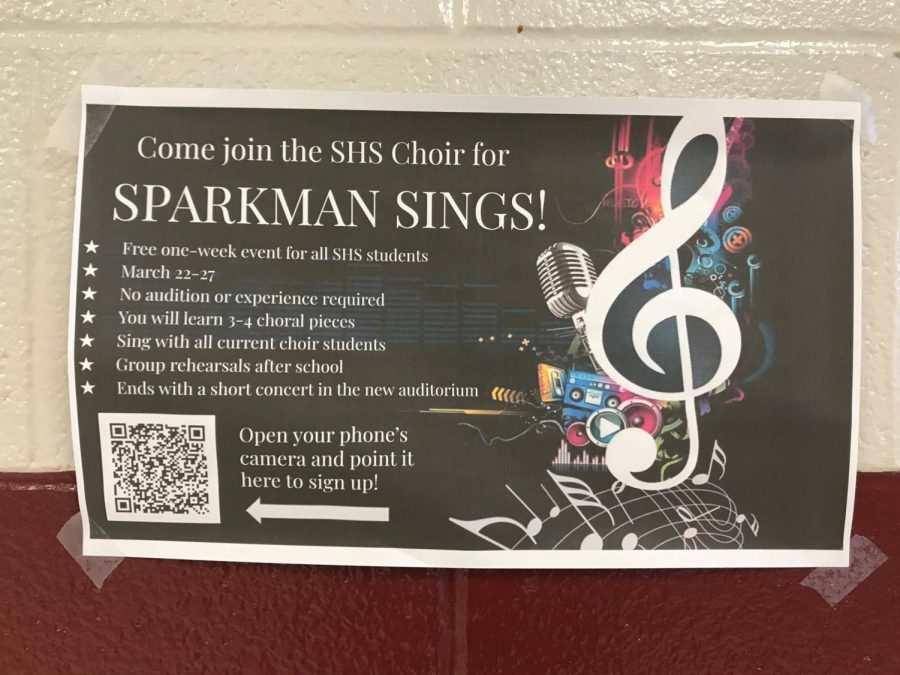 Photo Credit: Tess Warren
Choir to Hold Singing Fundraise
The choir is hosting Sparkman Sings, an event designed to bring energy back to the choir program and get students excited about singing again.
Choir teacher Caitlin Torrence is inviting students of all grades to a week of free after-school rehearsals held from 3:45-6:30 p.m. March 22-25 in the choir room and auditorium. These rehearsals lead up to a one-night concert at 7 p.m. Friday, March 26.
"The purpose of the event is to show people that we are still singing, and that singing is still fun," Torrence said. "We haven't been able to sing for the school at all this year, so this is a way to get us involved again."
Sparkman Sings is a wonderful opportunity for those who were not able to fit choir into their schedules. It will also allow people to see what choir is like before signing up.
"[The concert] will be short, but we will perform 3-4 songs. I am also open to some solo or small group performances if some participants would like to do that," Torrence said.
In terms of COVID safety, everyone will be wearing masks throughout the rehearsals and the concert. Torrence even mentions "special masks that are made for singers that students can purchase if they want to."
Everyone is invited to participate whether that means on stage or in the audience, either way, you will enjoy the show. To go on stage click here to sign up, no audition or experience necessary.. For the audience, tickets will be sold online for $2 due to seating capacity restrictions and social distancing guidelines. Remember, this will be the choir's first performance of the year and it is one-night-only, so you do not want to miss it.
Feel free to email any questions to choir teacher Caitlin Torrence at [email protected]