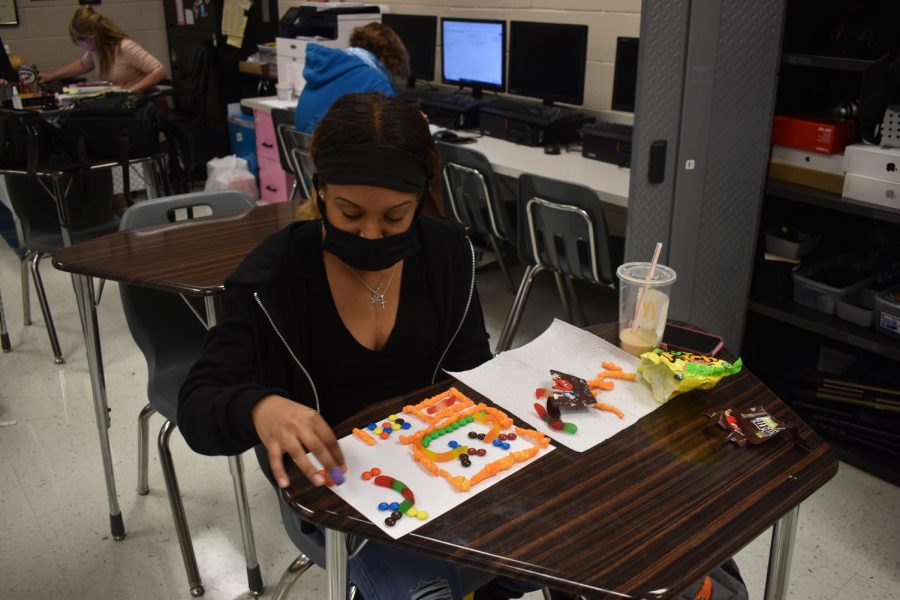 Yearbook Staff Adjusts to COVID Restrictions
"Yearbook isn't a hard class."
"Why are you stressed?"
"You literally have all year to finish the book."
"Didn't you choose to take the class?"
"Why are you always complaining?"
People who think like this would be wrong. According to seniors Kate Irving and Janiyah Blue yearbook is a serious class but their jobs are now even harder due do COVID.
Normally the class prepares can get out of the classroom to interview fellow students and take photographs of the typical school day. Now, that protocol is a little different.
"This year it is different because some of the classes are virtual and also not being able to go and get an interview or quote, you have to email and call," Irving said.
Because the yearbook students are now having to find alternate ways to interview, they are having to wait longer periods of time before they can complete their original task. Some students work in the classroom while others are tackling assignments from home. Things like taking pictures with only half of the class present this year is causing some students to take on extra work. And now with normal school activities being canceled many pages are having to be replaced by students reclaiming their year or snapshots from the students directly.
"The class is based on what is going on around us so we almost have nothing to document. This year is not as interactive as years prior," Blue said.
Despite all of the challenges, both girls agree that having the class during third block has given them the opportunity to get more work done during the school day because it is the longest period of the day. This gives editors time to organize and correct any pages that have been submitted.
"As one of the editors I oversee everyone's work to ensure that the book is synchronized as well as correcting any pages that are sent back to us for critiques," Blue said.
The book will be a few pages smaller this year as some typical coverage has been eliminated due to canceled events and the book will be distributed during the summer instead of May. Things like club photos will not be in the book, but the staff has a plan to include those clubs in a more creative way.
"We are not doing school photos until the last week of January so that has delayed us somewhat for getting a May delivery book out," adviser Erin Coggins said. "I am so proud of the staff, though, as they have really had to think outside of the box to produce another solid publication.
Even with all of the setbacks of COVID, the yearbook still remains both a family and an award winning team. Coggins has guided her students to take their passions seriously.
"I would not be on campus right now if it were not for Mrs. Coggins showing me the world of journalism. In this class we have deadlines to meet and a set amount of pages you have to fill, if you enjoy design, writing or even taking pictures join the class. Just imagine your friends paying to see your homework and classwork," Blue said.