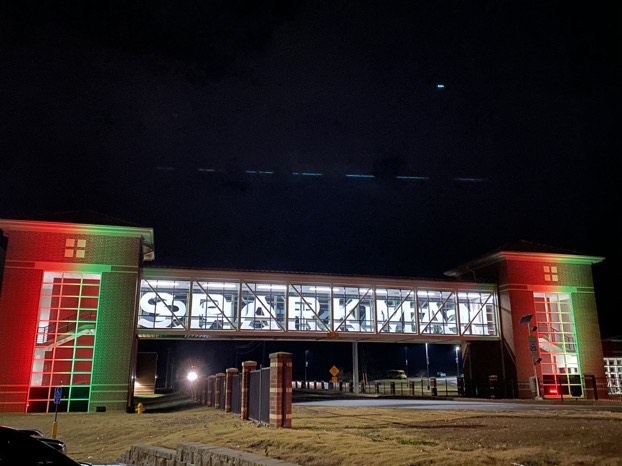 Photo by Chris Shaw
Skybridge Shows Holiday Spirit
With Christmas approaching soon, festive lights can be seen everywhere you look. Schools have decided to take part in the action of boosting holiday spirit.
Principal Christopher Shaw brought Christmas spirit into the community by lighting up the skybridge with Christmas colors. Now, the student body and community can enjoy the festive lights.
"We have the capabilities to change the colors at any time. We thought it would be good to  change the colors to green and red for everyone to get into the holiday spirit," Shaw said. 
With the unusual school year that we have had, it is comforting to know that the community can still embrace the holiday spirit. Shaw hopes that the lights can bring everyone together and generate a sense of pride for everyone who sees them. 
"I think the skybridge with the letters that spell Sparkman develops a sense of pride in the community and with the colors it makes it even more special during this time of year," Shaw said.