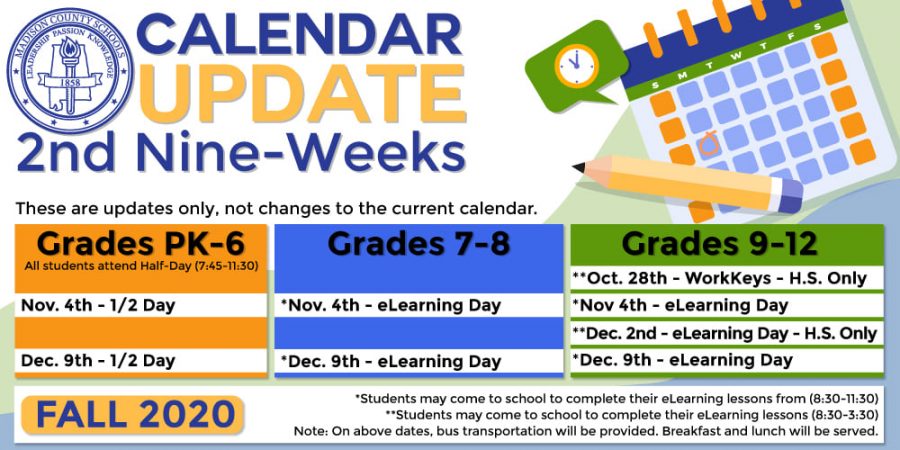 Graphic Courtesy of MCBOE
New Calendar Update Includes Multiple E-Learning Days
E-learning days have been decided for the dates Nov. 4, Dec. 2 and Dec. 9.
The purpose of such is to lessen the workload of instructors as they are teaching both remote and traditional students this year due to the pandemic.
"I met with some teachers and counselors before we instituted these e-learning days and the common theme was they need more time," Superintendent Allen Perkins said.
Virtual learning days resolve the time issue and allow instructors to work with remote learners, have meetings with parents, create new lessons and catch up on grading assignments whereas students can stay connected with the remote platforms if anything is to happen.
"These days are all around to help both teachers and students," Perkins said.
However, junior Will Hauck along with Ryan Calhoun would rather stay traditional throughout the week as they both agreed that e-learning days are not beneficial to them specifically.
"It's hard to concentrate on those days we have to learn at home," Hauck said. "I do much better in the classroom."
On the other hand, some see the advantages of these new Wednesday e-learning days, English teacher Renee Quaife for example.
"I think it's great. It gives the students time to refocus and catch up on assignments they haven't done. Teachers can collaborate and discuss their lessons," Quaife said.