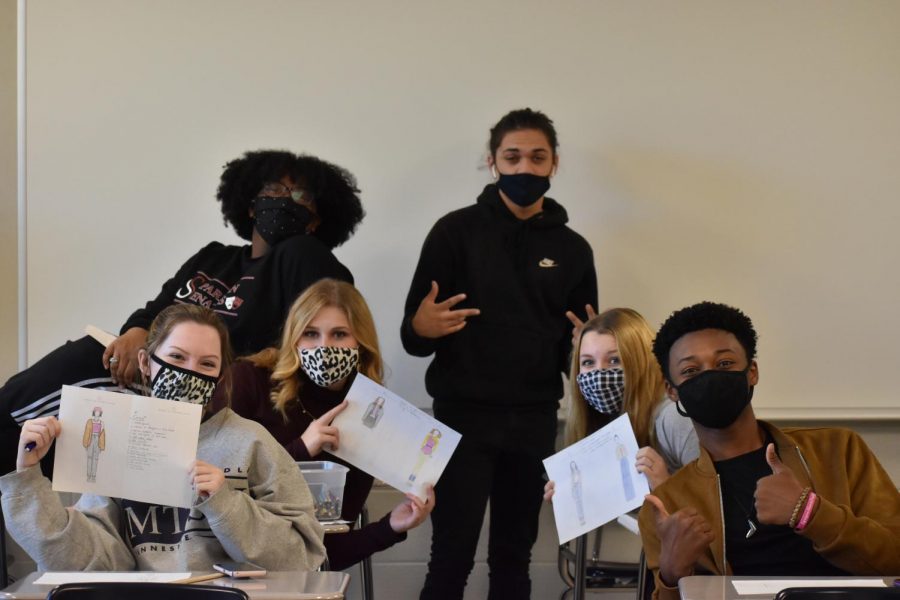 Photo Credit: Cherish
Drama Department Announces Spring Musical
This October, the theatre announced the theme of the play to be Beauty and the Beast.
Students and staff are excited for the challenge of putting on an amazing show with COVID-19 still going on. With the pandemic they are working to have the safest environment possible for everyone to enjoy the show. Auditions are Nov. 12-14 and no theatre experience is needed. The roles available to audition for are singers, dancers, leads, ensemble, cast or crew there is a spot for everyone.
Senior Hannah Perry is excited to show off her skills in the upcoming auditions, hoping for the lead. With the pandemic going on Perry thinks this production will send a beautiful message.
"I am auditioning for Belle because she is a strong, outspoken woman and she is compassionate to others," Perry said. "I've looked up to her since I was a kid and I tried to be like her." This will be Perry's third year trying out for the play. As this is her senior year, she plans to be better than ever.
Perry looks forward to making more memories with her cast members and having one final bow. Theatre has been where she has made some of her favorite memories.
"My favorite thing about the show is the memories we make as a cast. I love all the inside jokes and meeting new people," Perry said. The amount of time they spend together allows them to become closer.
As this is her third year trying out for the play, she has become more experienced. She has learned what to do and what not to do along the way.
"My biggest tip would be to have confidence in yourself. I totally bombed my first audition because I was so nervous and I seriously regret it. It also helps to talk to people who have done shows before because they have first-hand experience. Try to have fun. I think I can speak for most of the cast when I say there were times last year where it felt more like a job, so I'm just hoping to have his little stress as possible this year," Perry said.
Every year, the cast strives to outdo the last production and Perry is determined to make that happen. Last year she was an understudy for Velma in West Side Story.
"Being in the new Auditorium will definitely give the show a completely different vibe. I think it will be a lot more professional and our new director is also going to ensure that we put on a quality production," Perry said. "It's also been a while since Sparkman theatre has done a 'fairy tale' so I think it'll be refreshing to everyone."
The new theatre teacher, Cody Carlton, has some high expectations for his first production here. He has been working in the theatre world for over 15 years as a director, designer and actor in over 150 productions. He received his Bachelor of Science in Secondary Education English Language Arts from Jacksonville State University, as well as a Master of Art in Theatre Arts from Regent University.
"My expectations are always high. We will strive to bring the highest quality production to our audiences. We hope to inspire an ever-growing pride in our program, our school, and our system. We will endeavor to make a connection to the mind, heart, and spirit of her audiences, creating and stimulating a hunger for the experiences only achieved through the arts," Carlton said.
Carlton is excited to start his new beginning with his first show at Sparkman. He can't wait to teach the students and wow the audience. He has received instruction from Jeff Calhoun, Tobin Ost and many more well-known directors in the theatre world.
"I have found that in life,I easily become bored. Although I live by my routine, routine in my career would become stale to me very quickly. This is why I love theatre. Every few months or weeks, I get to travel to a different world, meet new people, and experience a new life. With every new show, I am always excited about things to come. This show is no exception. I'm thrilled to get to introduce our new fine arts center with this magical show," Carlton said.
Carlton wanted to start his new beginning with a production that has a bang, and will challenge students to do their absolute best. One of his favorite roles was Gaston in Beauty and the Beast.
"When thinking about which show to introduce both myself and the new theatre to our school and community, I knew I wanted something with a wow factor. Beauty and the Beast certainly is that show! The production has a great number of leading roles and wonderful ensemble opportunities. Those interested in tech will also find the show appealing for its technical design challenges. Beauty and the Beast will show our school and community what to expect moving forward in our new facility," Carlton said.
As students are starting to prepare for their possible roles, Carlton is starting to think about what he is looking for. He has worked with and as a director, actor, choreographer, designer, producer, and theatre educator for professional, regional, high school, and university venues across the country.
"Specifically, I am looking for students who are interested in growing as both a person and a performer. As a director, I look for diversity and uniqueness that one might bring to a role. While honoring the source material is always an important standard, I am interested in seeing someone play a role in a way that only that person can, bringing his or her own experience, thoughts, and life to the character to make it distinctive from everyone else that has played before. That is what live theatre is all about," Carlton said.
He wants someone who is passionate and loves the spotlight. He believes all students should have the opportunity to grow and hopes to make an empathetic impact.
"Students will be able to rehearse and work on the stage they will be performing," Carlton said.
The new building will be a huge plus and save a lot of time this year. Students and staff are excited to bring something new to Sparkman theatre. They want to show more passion than ever.
"The world's a stage, and we are the players! Make your play a great one," Carlton said.
For more information, go to www.sparkmantheatre.com.