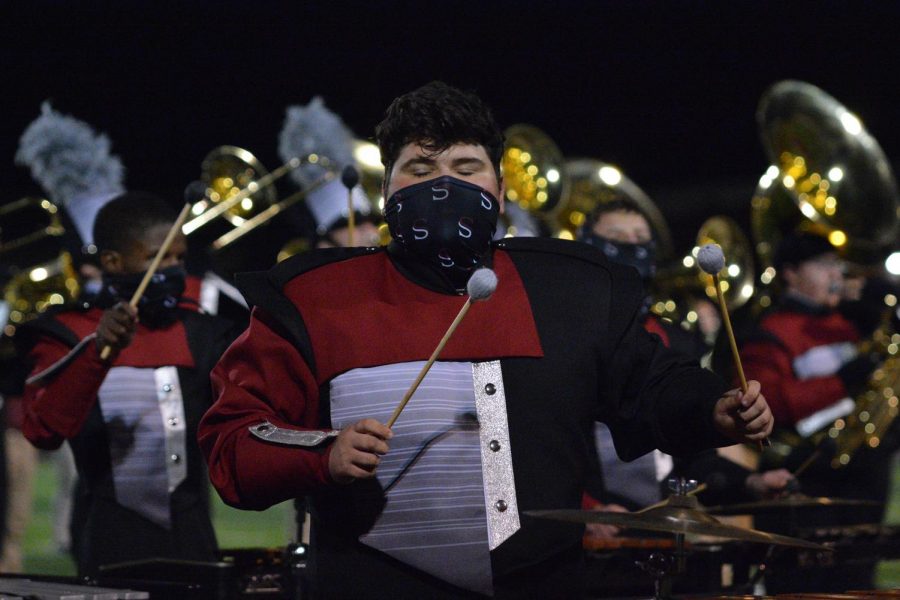 Photo Credit: Isabel Pollard
Despite Cancelled Competition Band Moves Forward
The band has worked up to this moment, just to have it take a turn. They were planning on having their one and only competition in Hanceville, on Saturday, Oct. 25 but the plan had changed due to the weather, causing them to cancel their competition and head to Florence.
Covid-19 has caused a significant amount of change and has affected the world in many ways. Raney, the band director, has shared how he feels about competing with other bands during this pandemic.
"I feel good about the competitions and performances we have had because of the mitigation procedures that have been sufficient for the safety of our students," Raney said.
Sophomore Caitlyn Rorick has given her opinion about competing in the band with the pandemic spreading around her.
"I was excited to compete against other bands this season; however, Covid-19 has made everything a bit scary," Rorick said, "There was always the thought in the back of my mind that competition with multiple bands could cause a major spread of the virus if we weren't careful. This could have resulted in bands getting shut down if too many members got sick."
When the band competition was canceled in Hanceville, they did not expect that they would end up performing somewhere else. However, Florence had a few spots open due to some bands canceling, one due to the majority of the band members having Covid-19, so Sparkman was able to take their place. Since it was last minute, they did not compete, but only performed for entertainment.
"I called Dr. Jones from the University of North Alabama to see if they had an opening. They had a few bands that had to cancel so we were fortunate," Raney said. "I was not indecisive at all, I knew about the performance opportunity before the competition was canceled and having a good relationship with the University that was hosting the event, I made a quick phone call and the rest was history."
Having your first competition canceled can be disappointing, and Rorick experienced just that.
"When the only competition for the season was canceled I was upset," Rorick said, "Since I am a sophomore, this is my first year in the competition band, so I was really looking forward to going to my first competition. I had been looking forward to it for weeks, only for it to be canceled that morning."
The band, according to Raney, has had a successful year and plans to make next year even better.
"The students and staff are doing an outstanding job this year, we just need more time to rehearse to make up for the lost time," Raney said.